Midsummer in Midwinter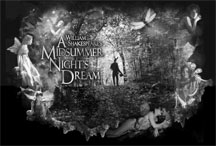 By Nathan Bradley
Publicity Director
On February 20 and 21, the Communication Arts Department will proudly present William Shakespeare's A Midsummer Night's Dream. However, since it is February, the actors will be trading their traditional summer attire for fur coats and scarves.
A Midsummer Night's Dream intertwines the stories of four lovers, six rough mechanicals, and a group of supernatural fairies in the woods. The lovers run into the woods where their love is put to the test by love potion that is applied to their eyes by the King of the Fairies and the mischievous Puck. As the lovers run about the woods in confusion over who loves whom, a group of rough mechanicals rehearse for a play that they will perform on the Duke's wedding night. One member of this troupe, Nick Bottom, is given the head of an ass before becoming the object of the Fairy Queen's affections. She is also under the influence of the love potion.
The guest director, Ann Brady, jokingly suggested setting the play in winter since that is when it will be performed, and it quickly became the concept. It is even justified by the script. In the Folger Shakespeare Library script, the Fairy Queen, Titania says,
"The spring, the summer,/ The childing autumn, angry winter, change/ Their wonted liveries, and the mazèd world/ By their increase knows not which is which"(2.1).
In other words, the seasons are all mixed up.
Brady has studied directly under Kristen Linklater and is, therefore, a master in her style of acting. Focusing on their voices, the actors approach the text in a new way.
Matt Clark, a freshman theatre major who will play Francis Flute in the play, says "it's very different from anything we've ever done before." The director uses many exercises to help the actors move on impulses and learn their lines by associating images with the text.
A Midsummer Night's Dream will be performed February 20 at 7:30pm and February 21 at 2:00pm and 7:30pm in the Sette-LaVerghetta Center for the Performing Arts. For ticket information, please email [email protected]