Stars Shined Brightly in Black Box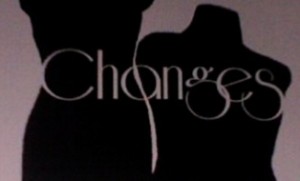 By Anne Marie Coar
Staff Writer
Even being a triple threat wasn't enough.  Not only did Hannah Botsford and Becky Lighthizer sing, dance, and act in their own shows, they also directed and produced them. The two Marywood musical theatre majors presented their senior showcases, collectively entitled Changes, in the Black Box Theatre of the Sette La Verghetta Center for the Performing Arts on October 9 and 10.
Botsford's show, "A Way Back To Then," told the story of an actress whose star power had diminished in recent years.  A young new actor, played by Sean Patrick Gibbons, had come, head-shot in hand, to take over her former dressing room.  Out with the old, in with the new.  Changes.  The show featured popular songs such as "Anything You Can Do" from Annie Get Your Gun and "Music and the Mirror" from A Chorus Line.
Botsford drew loads of laughs from the audience with numbers like "Alto's Lament," where she complained, "And although I've got a great high C, the reaction seems to be, we need you singing alto."  Botsford also displayed impressive talent with "Audition Medley," switching lyrics and melodies with rapid speed, as she sang brief snippets of songs from shows like The Sound of the Music and The Phantom of the Opera.  In the emotionally powerful "A Way Back to Then," Botsford's character yearned to return to the time when she was nine or ten, a little girl with big dreams, dancing in her backyard.  In between songs were various monologues tying each number to the next. After singing, dancing, and acting in her own show, Botsford said she has come to greatly admire those who perform one-woman shows, such as Elaine Stritch and Liza Minelli.
The theme in Lighthizer's "I Am What I Wear" was rather self-explanatory: you are what you wear.  This ranged from the superficial, shoes, politics, to finally and most importantly, your heart.  Lighthizer scored big with audience favorite, "Always a Bridesmaid," from I Love You, You're Perfect, Now Change, where she sang about the various hideous dresses she was forced to wear as a bridesmaid.  She went back to the sixties, decked out in bell-bottoms and full of flower power, with Hair and "Hippie Life."  Caitlyn McCloughan and Carolyn Ruggiero sang backup vocals for Lighthizer's numbers and also performed a few monologues as segues into each new song.  Lighthizer especially displayed her own acting chops with "Bell Bottom Monologue" from Mother Wit Radio Show.
"It's a daunting task to take on being a musical theatre major, but the end results are worth it," said Ms. Lighthizer.  And judging from the smiles, laughter and applause which filled the Black Box that night, the audience seemed to agree.