Ice Under the Big Top: Clarks Summit Festival of Ice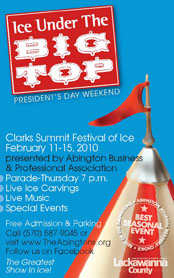 By Mandy Boyle
Advertising Sales Manager/Entertainment Editor
Enjoying winter weather can be challenging, especially if you're stuck inside because of the temperatures. Not to worry. In Northeastern Pennsylvania, there's one event that's cooler than cool – and I'm not just talking about the temperature.
The Clarks Summit Festival of Ice will take place February 11-15, 2010, encompassing both President's Day Weekend and Valentine's Day (hint: it's a great date!). This year's theme, "Ice Under the Big Top" will incorporate a variety of events and activities that make celebrating the chilly weather a lot more fun. Plus, I've heard that there may be lion tamers, jugglers, and clowns – oh, my!
This year's festival will feature live, themed ice carvings; live music; entertainment; contests & games; tons of prizes; and a variety of special events to interest all ages and interests. While strolling the State Street, festival attendees can enjoy more than 50 ice sculptures carved by Sculpted Ice Works, Inc., all sponsored by local businesses. The best part: admission and parking are free! That's right – you and some of your friends can enjoy a great weekend out without having to pay for parking or admission. Sure beats sitting in your dorm room, right?
"Now is a time when families, couples and individuals are looking for activities that won't stretch their budgets. This celebration provides five days of free entertainment from one-of-a-kind artwork to live music to specialized in-store events, and attendees don't even have to pay to park," said Barry Kaplan, owner of Everything Natural, in an event press release. "And, the Clarks Summit Festival of Ice can be a romantic location for a Valentine's Day date."
Events will begin with an ice-welcoming parade through downtown Clarks Summit at 7 p.m. on Thursday, February 11 featuring juggling, clowns, and local performers. From there, be sure to pick up a map and an events guide at the festival to keep on top of all of the events taking place in the Clarks Summit Borough Building, the Abington Community Library, and many of the shops along State Street.
Some of the highlighted events and  promotions include: tasty animal cookies, kettlecorn, massages, an acoustic guitar jam, and maté organic tea at Everything Natural; Guitar Hero with the Army National Guard; refreshments & in store specials at tons of Clarks Summit shops; a complimentary skin care sampling bar and chocolate fountain at Monogram Muse; tons of great prizes and giveaways; a clown car contest;  a Snuggie photo contest on Facebook; and lots of free hot chocolate. Trust me – there's so much to enjoy at this year's event that you won't want to spend your Valentine's Day weekend any other way – even if you don't have a sweetheart this year.
"The downtown businesses hold individualized in-store events, and many have live ice-carvings outside. They're always warm and bubbling with excitement from participants, and it's fantastic to watch everyone from long-time community members to first-time visitors gather together as if they'd known each other for years. I don't know that any other community hosts an event that's as fun and memorable as the Clarks Summit Festival of Ice," said Francene Dudziec, owner of Monogram Muse, of last year's event.
Need the perfect place to take your sweetie to celebrate? The Clarks Summit Festival of Ice is only a 10-minute drive from campus and is sure to have something for everyone to enjoy. Sample chocolates, watch a live ice carving, and snuggle up in one of the warming stations as you and someone special take the time to really enjoy what NEPA has to offer during this chilly season.
For more information, visit the festival on Facebook (http://www.facebook.com/festivalofice), follow it on Twitter (http://twitter.com/festivalofice), or check out the official website at http://theabingtons.org.
What: The Clarks Summit Festival of Ice
Where: All Throughout Downtown Clarks Summit, PA.
When: Thursday, February 11 through Monday, February 15.