New and old TV shows return for the fall
Roxeanne DeAngelo
Staff Writer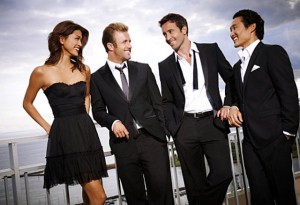 It's that time of year again. While some wait in anticipation for the continuance of the more popular returning shows, others mourn the loss of the less compelling series from the previous season. Some may find themselves overwhelmed, with over 20 new TV series to choose from its no wonder why. To better help you get acquainted with this season's top rated shows TVGuide.com's TV Team research panel reveals the top 10 most anticipated returning shows for the fall:
1. NCIS (CBS)- A successful 'JAG' spin-off about criminal cases involving Navy and Marine personnel, handled by the Naval Criminal Investigative Service.
2. Fringe (Fox)- A drama with sci-fi elements following the FBI probe of mysterious deaths aboard an airplane that landed at Boston's Logan Airport. But the deaths aboard Flight 627 are only the beginning of the story.
3. Glee (Fox)- Musical comedy-drama about the misfits who make up a high-school glee club.
4. Castle (ABC)- A murder-mystery writer and a detective team up to catch a serial killer who is reenacting murders from his books. Once the case is solved, the unlikely pair continue to work together to probe New York City's most unusual homicides.
5. Bones (Fox)- A scientist with an 'uncanny ability to read clues left behind in a victim's bones' solves murders in a procedural series inspired by real-life forensic anthropologist and novelist Kathy Reichs.
6. Chuck (NBC)- A computer nerd is drawn into shadowy global espionage when subliminal government secrets are downloaded into his brain.
7. The Big Bang Theory (CBS)- Two nerdy physicists share an apartment and an unlikely friendship with their beautiful neighbor with whom one of them is infatuated.
8. Grey's Anatomy (ABC)- Surgical residents at a Seattle teaching hospital hone their bedside manners on and off the job in this medical drama.
9. Supernatural (CW)- McG-produced drama about two brothers, searching for their missing dad, who chase down evil forces that claimed the life of their mother and the life of the younger brother's girlfriend. They travel the country in a '67 Chevy Impala, encountering paranormal phenomena at every turn.
10. Dexter (Showtime)- A forensic expert lives a double life as a vigilante-serial killer who murders wrongdoers who've escaped justice.
As for the top 10 most anticipated NEW shows for the fall, according to TVGuide.com's TV Team research panel they are as follows:
1. Hawaii Five-0 (CBS)- An elite police task force in Hawaii headed by a decorated naval officer probes high-level crimes. The series is a reboot of the classic Jack Lord crime drama of the 1970s.
2. The Event (NBC)- An ordinary man's probe into his girlfriend's disappearance leads him to uncover a conspiracy of untold dimensions, inadvertently affecting the newly elected U.S. president, the leader of a group of mysterious detainees and the detainee leader's father.
3. Law and Order: Los Angeles (NBC)- The police investigate crimes in Los Angeles and prosecutors try the suspects in this crime-drama series.
4. Blue Bloods (CBS)- A New York crime drama focusing on a multi-generational family of cops that includes the city's police commissioner, his two sons and his retired father
5. No Ordinary Family (ABC)- A sci-fi drama about a family that develops superpowers after a plane crash in the Amazon.
6. Undercovers (NBC)- A married pair of retired spies return to the world of espionage, this time as partners, while also running a catering company in this action-adventure series.
7. S#*! My Dad Says (CBS)- Sitcom based on Justin Halpern's popular Twitter feed about a guy in his 20's who moves back home with his perennially grumpy father.
8. Nikita (CW)- A spy emerges from hiding to seek revenge on a clandestine government agency that betrayed her after rescuing her as a teen and training her to be an assassin.
9. The Defenders (CBS)- Two charismatic defense lawyers represent a variety of clients in Las Vegas.
10. Boardwalk Empire (HBO)- Political boss Enoch 'Nucky' Thompson runs Atlantic City at the dawn of Prohibition in this drama inspired by Nelson Johnson's non-fiction book 'Boardwalk Empire: The Birth, High Times, and Corruption of Atlantic City.'
For more information on shows not listed visit the Tvguide.com.