Shanghai Yue Opera visits Marywood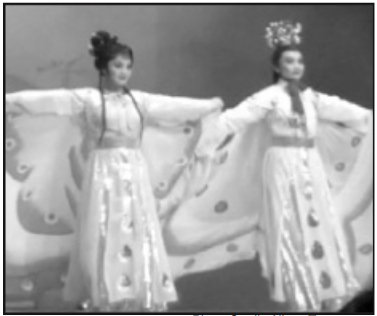 Photo Credit: Alison Trautmann
Two portray butterflies in the final scene of the opera "Butterfly's Love."
Alison Trautmann
Editor-in-Chief
On September 10, the Shanghai Yue Opera performed "Butterfly's Love" at Marywood University. The actresses of the company also engaged in a Q&A session with interested members of the public and engaged in a workshop with Marywood students.
The event was a result of a partnership between Marywood and the U.S. – China Cultural and Educational Foundation. Dr. F. David Romines, the Director of Bands at Marywood, is the Educational Advisor on the Board of Directors of this organization. Dr. Song Yang, the vice chairman, was booking venues for the opera and asked if Marywood would like to host the ensemble.
"The music of China is structured differently, both rhythmically and harmonically than in western culture," said Dr. Romines. There is an emphasis on vocal calisthenics and listeners will hear lots of vocal ornamentation."
"Butterfly's Love" is a very famous opera in China. "One of the most performed violin concertos in Chinese literature is based on the love theme from 'Butterfly's Love'" said Romines.
The Shanghai Yue Opera Company has a very good reputation in China. It is an all female opera company where the male roles in the opera are played by females. In the question and answer session, the actresses said that one of the most challenging aspects of performing this opera was performing as a woman in a man's role." During the workshop, the actresses demonstrated the difference between the movements for the female and the male characters.
The production was spectacular with elaborate costumes and spectacular vocal performances. The audience enjoyed the performance, especially the scene where Yingtai, disguised as a man, was attempting to tell Shanbo that she was a woman.
"It is nice to expose students to what is common on the other side of the world" said Romines "The story itself is a timeless representation of the human condition."