Movie Review: "The World's End"–Who says beer, robots, and aliens can't go hand in hand?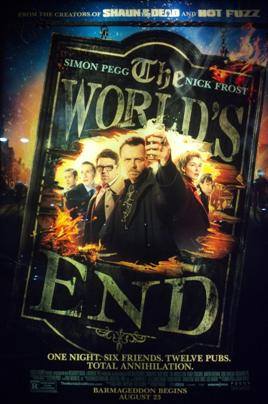 What is "The Worlds End"? Is it God's verdict, setting all of humanity through the judgment of good and evil, or is it the Mayan Prophecy of some tragic event beyond our control? In the eyes of director-writer Edgar Wright, "The World's End" is something slightly less catastrophic, or so  the viewer is lead to believe.
Released August 23, "The World's End" stars Simon Pegg, Nick Frost, Paddy Considine, Eddie Marsan, and Martin Freeman. It is a story of five friends who reluctantly reunite to complete an epic pub crawl they failed to complete 20 years earlier.
Led by their self-indulgent, alcoholic leader, Gary King (Pegg), the estranged friends return to their hometown expecting to partake in The Golden Mile, consuming 12 pints of beer from 12 different pubs all in one night. But what was supposed to be a night of reminiscence and fun turns into a night of survival for all mankind.
Released after the zombie apocalypse "Shaun of the Dead" and the buddy-cop duo "Hot Fuzz", "The World's End" serves as the third and final installment of Edgar Wrights genre-spoof trilogy and, like its predecessors, it does not disappoint.
Edgar Wright's dialogue is once again unmatched. With a tight script filled with witty banter and mockery, "The World's End" helps breaks the mold of the typical comedies released today.
Equally matched to the dialogue is the choreography throughout the film. Wright's editing between each fight scene is close-fitting and seamless, making each battle feel different from the one before.
Overall, "The World's End" is a brilliant, amusing film. What starts as a sharp, witty comedy about five grown men coming to terms with the dilemmas of adulthood and loss of friendship quickly transforms into an epic beat-em-up film filled with robot alien monsters and an unforgettable plot twist that's sure to please the masses.
I'm giving "The World's End" 4/5 kernels.