Marywood hosts 2015 Scholastic Art Awards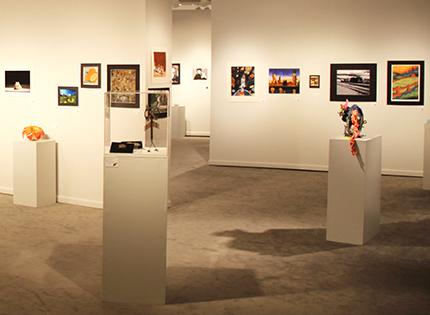 The Mahady Gallery is currently displaying the 2015 Scholastic Art Award Exhibition, which features award-winning work from local middle and high school students.
Located in the Shields Center for Visual Arts, the exhibition will run through March 1.
The Scholastic Art Awards program is for students in grades 7 through 12. Students are judged based on their artwork in 28 different categories. This year's award presentation was held on Feb. 7 at 1:00 p.m.
The work displayed in this year's gallery is by the students who won Gold and Silver Key awards from schools throughout the Northeastern Pennsylvania region. The exhibit also includes several honorable mentions who's work can be seen in a slideshow presentation on computer screens in the gallery area.
Gold Key winners are ranked as the highest artists in the competition. Their work will go on to be judged at the National Scholastic Art Awards in New York.
Of the Gold Key Winners, Kira Karboski- Career Technology Center of Lackawanna County, Alissa Outwater- Delaware Valley High School, Mahala Sampson- Forest City Regional High School, Westen Johnson-Western Wayne High School, and Alexa Meyer- Honesdale High School, were also awarded the American Vision Award.
"This region is assured that at least one of those winners [The American Vision Award] will represent this region in the national exhibition," said Sandra Povse, gallery director.
According to Povse, three panels of judges evaluated this year's exhibit—one in photography, two-dimensional art, and three-dimensional art.
This year, Povse worked with Ellen Silberlicht, an art educator from Honesdale High School, to come up with jurors.
"There are a number of people from the art department […] as well as professional artists, and I generally like to always include judges from other schools […] so that it's more community-based," said Povse.
Several of the chosen works this year incorporate anti-bullying messages,which Povse sees as an indication of the times.
"The work many times […] is kind of a barometer of the way people are thinking, and/or the way students are thinking—and what's happening in their schools as well," said Povse.
Robert Flynn, a junior psychical activity major who also works in the Suraci Gallery, found a lot of the artwork to be relatable. "I was actually impressed when I saw that they were high school [students]. Them being high schooler's made it that much more interesting," said Flynn.
The exhibition was sponsored by Times-Shamrock Communications, as it has been for the past several years. Next year, Marywood plans to sponsor the exhibition.
"[Sponsorship] is something more tangible to get Marywood's name out there, and tangible in Marywood's commitment to the arts too," said Povse.
For more information about this year's winners visit, http://www.marywood.edu/galleries/