Professor Charles Gorden's original play performed at Sargent Theatre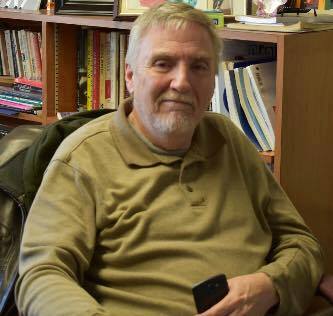 Charles Gorden, associate professor of theatre at Marywood, had his original play, "Guarding the Bridge," performed on Oct. 28 and Nov. 1 at the Sargent Theatre in New York City.
The Oct. 28 show featured the play and a talk between the audience and Gorden.
Gorden wrote the play around 1995, and it was first produced in 1998 at the University of Oklahoma where he received his Master of Fine Arts. The play was a submission in the American College Theatre Festival in 1998 sponsored by the Kennedy Center where it won the Michael Kanin Award for Best Short Play.
The storyline follows two characters, a son and a father, on a small bridge in a rural county. Each character addresses the audience from their perspective of the past and the present.
"Essentially, the son is recounting the tale of spending the night on the bridge with his father and how he couldn't believe this pent-up paranoia his father harped about. The son, as a young man, believed he could change all those ideas and be liberal, and teach school in inner cities, because to him the cause of racism was lack of education and ignorance," said Gorden.
Gorden said his inspiration for the play was re-imagining an incident that happened in Gorden's youth: the day when Martin Luther King Jr. was shot.
"This event always kind of stuck with me and I found a metaphor with it. Later, the idea started of sort of settling in that racism is still here. It's still dormant," said Gorden.
The Ripple Effect Artists, who performed and organized "Guarding the Bridge" at the Sargent Theatre, regularly produce plays that educate about social issues, according to their website. They are currently running another play, "She Has a Name," about sex trafficking in the U.S. Gorden appreciated the company's approach to theatre.
"They make sure they have experts in the field there to do a talk-back with their audience after the show so that it's [a] more interactive experience than just a one-way entertainment experience," explained Gorden.
Gorden talked about the experience of seeing his original play brought to life on stage.
"What was great about it, it was the first time I've seen it performed with professional actors which was unique. Every other time I've seen it, it was with college performers so as a professor who teaches acting and directing, you can't help but sit there and want to evaluate them," said Gorden.
Gorden explained that there's a possibility the theater will put on the production again in the spring of 2018.
"On one hand, it's great to know people still consider the play relevant, but on the other hand it's a little sad, because it deals with racism. It deals with racism being passed down generation to generation," said Gorden.
Contact the writer: [email protected]