Senior Art Exhibit underway in the Mahady and Suraci Galleries
Until May 1, a group of 27 graduating seniors in the Art Department will have their work displayed in the Mahady and Suraci Galleries.
The concentrations represented in the Senior Art Exhibit this year include Illustration, Photography, Ceramics, Grap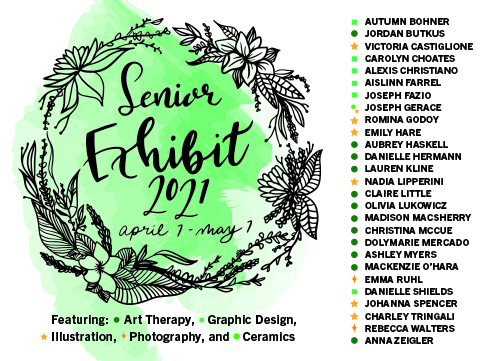 hic Design and Art Therapy.
Last year the department was forced to move the Senior Art Exhibit to an online format due to COVID-19. Although COVID-19 prevented the department from hosting an opening reception this year, visitors will be able to see the artwork in person.
Senior Art Therapy Major Claire Little explained that she is happy and grateful that people will have the opportunity to view the artwork in person.
"There's something really different about a piece of artwork in person," said Little. "I think being able to physically see all of our work hanging out in a natural space just feels a lot more special and personal."
Two pieces that Little said she is most excited for people to see is "Florals 1" and "Florals 3."
"I usually work pretty quickly when I'm painting, but these took me about three months to complete," said Little. "I really loved the experience of making them, and I felt so much more proud of myself when I was done because it took so much time and effort to make these pieces."
Senior Illustration Major Emily Hare explained that preparations for the exhibit reflected each student's time at Marywood.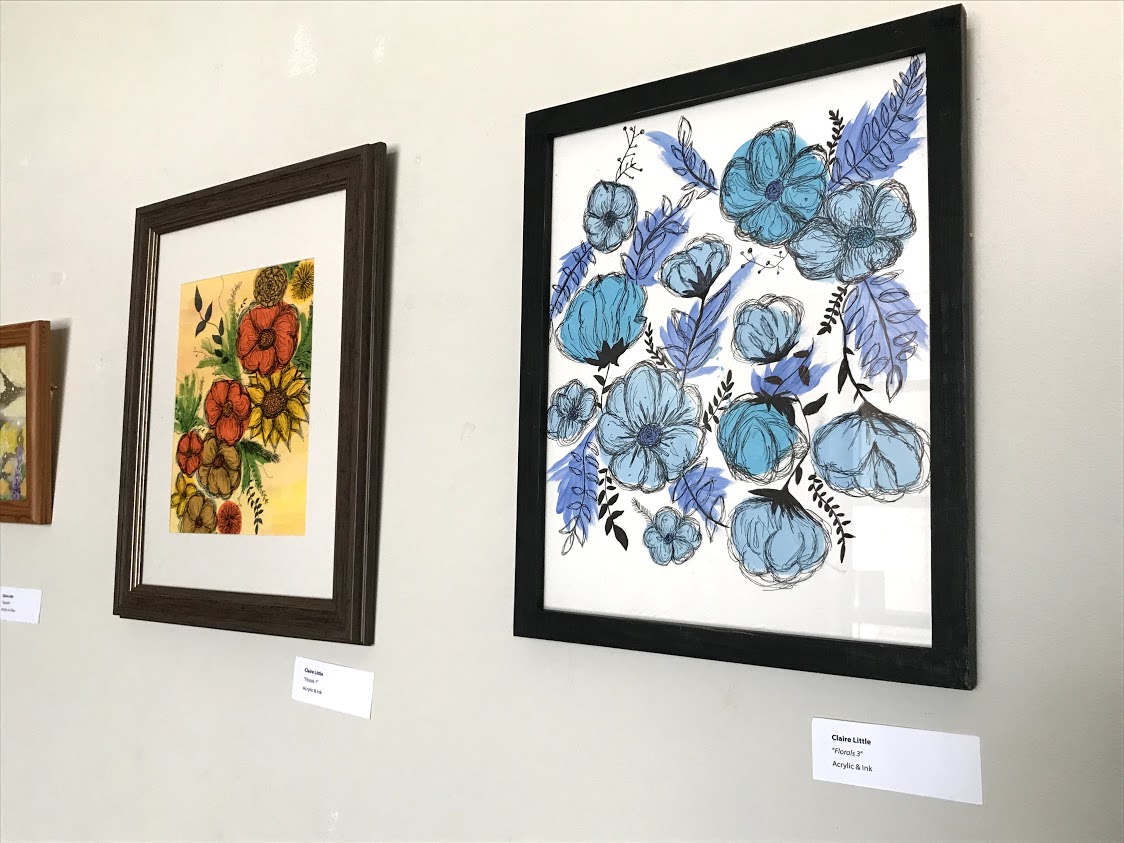 "We had to discuss with our advisor the artwork that we wanted to use from our time at Marywood," said Hare. "We then got them printed and framed to display in the exhibit."
Senior Graphic Design Major Carolyn Choates explained that to prepare for the exhibit, she spoke to people without a background in art.
"It's important to ask a variety of people for their opinion on your work because you're making a show for outsiders, not just a bunch of designers," said Choates.
While Hare and Little plan on continuing their education at Marywood, Choates said she plans to jump into a career. Despite COVID-19, Choates said she is confident about her career outlook because of her experience in the Art Department.
"[The professors] are really good at encouraging us to make connections with our fellow students and professors," said Choates. "They're also really good at helping us network with other professionals in the art field."
Reflecting on her time at Marywood, Hare explained that she believes younger students should keep in mind that tough times will pass.
"It can be a little intimidating going to college for the first time," said Hare. "But your work is going to evolve, and as long as you trust the process, you'll get there."
For those interested in viewing the artwork, the Mahady and Suraci Galleries' hours of operation are as followed:
Mondays 9:00 a.m. to 4:00 p.m.
Tuesdays 9:00 a.m. to 4:00 p.m.
Wednesdays 9:00 a.m. to 4:00 p.m.
Thursdays 9:00 a.m. to 5:00 p.m.
Fridays 11:00 a.m. to 2:00 p.m.
Sundays 1:00 p.m. to 4:00 p.m.
Contact the writer: [email protected]
Twitter: @BrianaRyanTWW