Popcorn Picks: "Spencer" is a boring movie about an extraordinary person
As a big fan of the late, great Diana, Princess of Wales, I was excited to see "Spencer", the new film from director Pablo Larraín. However, it was not as exciting as I hoped it was going to be.
The film stars "Twilight" star Kristen Stewart as Diana, at a time where she was dealing with her failing marriage to Prince Charles and the stress of being a royal, all while juggling her role as a mother during the Christmas holiday. It is upsetting, raw and a little odd.
The main thing I did not like about this movie was the fact that Diana was portrayed as if she was crazy. She kept having hallucinations of King Henry VIII's wife Anne Boleyn, who also had marital issues as a member of the royal family. At one point, Diana is seen eating the pearl necklace that Prince Charles bought her for Christmas, since he bought the same one for his mistress, Camilla Parker-Bowles. The scene turns out to just be part of Diana's imagination and symbolic of how she would do anything to escape the family.
The movie is filled with symbolism and references to food. It is a known fact that Princess Diana struggled with bulimia, so I thought it was a creative choice to show the kitchen staff making the meals and to have the camera focus on what they were serving that day. Most of Diana's panic about her situation in this film also came while the family was all sitting around for meals.
My favorite piece of symbolism, however, is the sign in the kitchen reminding staff to keep quiet because "they can hear you". The sign, to me, represented how Diana could not make her own choices (she couldn't take a walk, she had to wear certain outfits on certain days, etc.) without the royal family knowing. The cinematography of England during the winter was also visually stunning.
Although the symbolism was great, the movie was boring. There was no plot. It was just the family- Prince Charles specifically- being awful to Diana. It felt like there was no progress made throughout the movie until the end when she decides to take her sons and run away.
Although the movie branded itself as a "fable from a true tragedy" and made clear that none of it was 100% accurate, I know more things have had to have happened to lead up to Diana's inevitable divorce from Charles and I would have loved to see those in this movie.
Lastly, even though the plot lacked depth, Kristen Stewart's performance as Princess Diana was so incredible. I was so caught up in Stewart's performance I forgot it was not really Princess Diana. Not only did she look just like her, she captured Diana's quirky personality and how badly she just wanted to live her life independently. Stewart hit the nail on the head in her portrayal of how badly Diana loved her sons. Stewart will definitely be nominated for an Oscar for this role and although it is early in Oscar's contention, I would not be surprised if she won. She also looked amazing in every single outfit. I also expect an Oscar nomination or win from costume designer Jacqueline Durran for her replicas of Princess Diana's most famous outfits, including her iconic wedding dress.
If you're a fan of the royal family or Princess Diana, I would recommend skipping this movie. However, if you're a fan of movies, you might want to check this one out. The symbolism and cinematography are guaranteed to make you fall more in love with cinema.
Rating: 7 out of 10 kernels
Contact the writer: [email protected]
Twitter: @EllenFrantzTWW
About the Contributor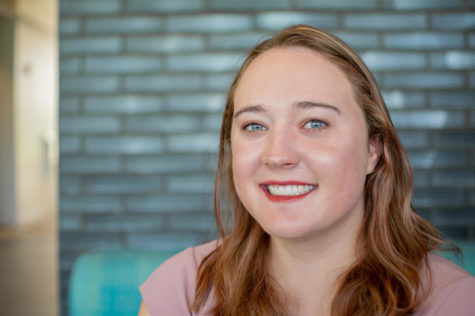 Ellen Frantz, Editor in Chief
Ellen is a senior multimedia journalism major with a minor in theatre and serves as Editor-in-Chief of The Wood Word. She is also an anchor for TVM news,...