Position of Provost the Mark of an Expanding Campus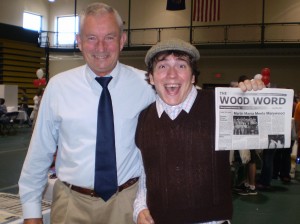 By Lauren Tyrrell
Editor-in-Chief
The appointment of Dr. Peter Cimbolic as Provost, in addition to his formerly held role of Vice President of Academic Affairs, marks an acknowledgment of the continued growth of Marywood University.
Administrators of the university deemed this appointment necessary due to Marywood's increasing complexity within the past several years. "It's consistent with the administrative structures found in similar institutions of our size and complexity," Dr. Cimbolic explained.
"We have a large number of both undergraduate and graduate programs, and doctoral programs. Usually, in schools that have multilevel baccalaureate, masters, and doctoral programs, the chief academic officer is the provost as well as the academic vice president."
The position of provost includes functioning as the primary contact between the president and the university community when the president is off campus. He or she becomes responsible for carrying out official duties as well as overseeing campus activities in the absence of the president.
Another primary focus for Dr. Cimbolic is academic success, a component of the university recently analyzed in U.S. News and World Report's annual list of best colleges and universities in America.
In its list released on August 22, U.S. News rated Marywood University at number 58 among colleges and universities granting master's degrees in the northern United States.
"We're basically quite pleased with where we are and I would like to see that [number] improve," said Dr. Cimbolic. "My job as chief academic officer is to see that our academic reputation is always improving; therefore, I'm never satisfied. If we were number two I wouldn't be satisfied."
U.S. News and World Report evaluates several factors in formulating its ranking, including student selectivity, class size, faculty resources, financial resources, alumni giving rate, and retention.
"The first and most important [way we can strengthen our ranking] is that we increase retention, that students who come to Marywood stay here and graduate in a timely fashion" said Dr. Cimbolic. "I think that's the single most important thing we can do. We've made a lot of efforts in that area, including [the development of] our retention office."
The significance of this ranking from U.S. News is its usage by students, parents, and counselors as an indicator to the strengths and weaknesses of a college or university. "It's not the only benchmark considered," said Dr. Cimbolic, "but it does carry some weight for some people, so it's not to be ignored. We take it very seriously."