Annual Christmas Tree Lighting Ceremony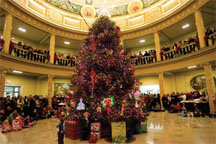 By Christine Lauff
Staff Writer
The Annual Christmas Tree Lighting Ceremony was held in the Rotunda in the Liberal Arts Center on Wednesday, December 3. Many members of the Marywood family, including students, faculty, staff, alumni, and members of the local community, attended.
According to Superintendent of Grounds Mark Burns, this year's tree is a Douglas Fir from Lehighton. It stands 22 feet high and weighs over 1500 pounds. The tree is covered by approximately 4000 lights as well as unique decorations made by members of Marywood's clubs and organizations, and, at the top, a shining star.
Though the Christmas Tree Lighting Ceremony is a longtime tradition at Marywood University, its origins are unknown. The ceremony was originally held in the Commons and was later moved to its present location, the Rotunda. A letter written by the former president of Marywood University, Sr. M. Coleman Nee, IHM, suggests that up until 1976 the ceremony was still being held in the Commons. "Bright lights color the Christmas tree on the Commons," Sr. Coleman wrote, "while shadowy fir trees and bundled up students brave the winter cold." Another letter from Sr. Coleman, dated December 1986, states that the ceremony had been held in the Rotunda that year; however, it fails to mention whether this was the first time it had been moved from the Commons.
John Coval, Director of Conference and Event Services said that, as always, "We try to keep [the tree lighting ceremony] very traditional." Although the beginnings of the Christmas Tree Lighting Ceremony are unknown, it remains one of the most beloved and oldest Marywood traditions to date.