The Wood Word Launches Website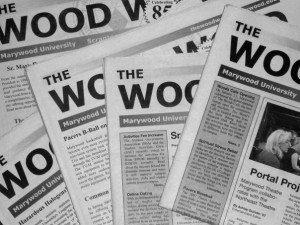 By Amanda Toth, Editor-in-Chief
Mandy Boyle, Advertising Sales Manager/Entertainment Editor
The Wood Word is proud to announce the coming to fruition of a project that has been just a proposal for quite some time: The Wood Word is going online!
The capstone of the Communication Arts Department is Senior Seminar, which requires all graduating seniors to produce a final project, typically documentaries or advertising campaigns. We have chosen to make the development of a Wood Word website our senior project for several reasons.
One reason is that The Wood Word has been trying to do this for quite some time. In fact, the last three Editors-in-Chief have looked into some form of a website, including hosting PDFs on the Communications and Marketing Department webpage and a full contract with the AP and MTV College Networks. With the rise of easy-to-use blogging platforms like Blogger and WordPress, it has never been easier to start a website. We feel there is no time like the present to get started.
Another reason for going online is the popularity of online news. The newspaper industry is becoming digitalized. Even college newspaper's like Penn State's The Daily Collegian and The University of Scranton's Aquinas are online. But this is not to say The Wood Word will be only in an online format; we will continue to print a physical paper.
This brings me to a third reason for going online: it will enhance the physical paper. Sometimes there are articles we cannot print simply because of space issues, or because it would not be timely by the time the paper is delivered. This will no longer be an issue, as we can publish these articles online. We can also use the website as a way for other clubs to advertise their on-campus events.
After we decided the paper should go online, it came time to actually sit down and think about how we would do it. There were a ton of options out there when it came to building a successful site, but we had to choose something that was going to be right for us. We decided to go with WordPress.
WordPress is an incredibly easy-to-use, user-friendly platform that gave us the flexibility we needed while still ensuring that our site maintained a professional look. As for the technical side of things, a WordPress blog was simple to set up and something that we felt would transition well to future web editors.
So we had the idea and we had the platform. Next, we went to reserve the domain name and hosting to bring the site to life. Mandy had some experience with HostGator prior to the site launch and was really pleased with their interface, not to mention, their great tech support service. So we went with HostGator on a plan that gave us tons of space to build our site, an already registered domain name (https://thewoodword.org), and all of the support we would need to start making a site from scratch. Trust us – it wasn't easy.
For those of you who may not be technically well-versed, building a site is a challenge. We had to learn the vocabulary of a web designer and programmer. We had to find out what an FTP was. We had to read up and research on how to actually take a site from the design to the actual reality. Luckily, by using WordPress and an already built theme, we didn't have to do much coding manually.
Speaking of the theme or site layout, we have to give credit to Woo! Themes, which provided us with the free Original Premium News theme and support documents. This theme, we felt, was the best fit for our publication. Not only did it offer a clean look and a feel that was consistent with our print edition, but it also gave us tons of features that we could use to make the new site much more customized and user-friendly.
Now it was time to make the piles of files we had on hand into something that resembled a site. Using the automatic WordPress installation feature on HostGator, importing our theme files went from being intimidating to a piece of cake.  We now had a working design and a template that was customized. We then redesigned the logo, to make it more web-friendly and consulted with the Communications and Marketing Department at Marywood to get all of the colors in the theme consistent with those used by the university. From then on, it was just a matter of uploading all of the photos, news stories, and information needed to bring the project together.  It took awhile and the task had its own share of trials and tribulations. Before we knew it, we were ready to launch and ready to take The Wood Word into an era of information and new media.
It's been an exciting ride and we both agree that it has had its challenges, but in the end, we knew it was worth it. Now, we can proudly say that when you want to get news about what's happening on Marywood University's campus and beyond, you can turn to TheWoodWord.org to find it. Add it to your Google Reader, bookmark it in your browser, and share it with your friends on social networks. TheWoodWord.org is ready for some web traffic.