Marywood adds WeCar rental program
Joseph Petro
Outlook Editor
Marywood students can now rent a car without even stepping foot off campus.
Marywood University and Enterprise Car Rental launched the new WeCar Hybrid Rental Car program in January.  This new program allows Marywood students the opportunity to conveniently rent one of two WeCars stored right on the Marywood campus, in the Nazareth Student Center parking lot.
The new vehicles are intended to provide students, faculty, and staff a convenient car sharing solution.  The new vehicles supplied to Marywood by Enterprise are owned by Enterprise and no added fees are added to student's accounts.
Enterprise's WeCar program has been in effect for the past two and a half years.  Other regional schools, like Albright and Lehigh already participate.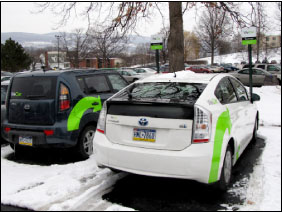 Douglas J. Paskowski, director of business rental sales for Enterprise, said that members of the Marywood community can take advantage of the program after enrolling on WeCar.com.
"Members are required to pay an annual membership fee of $50 and a one-time $20 application fee," said Paskowski.  Once enrolled, members can choose from a variety of rate plans.  WeCars can be rented for $9 an hour, $50 a day, or $30 for an overnight period (8 p.m. – 8 a.m.).  According to Paskowski, every rate plan includes up to 200 free miles and every additional mile is $0.20.
Renters can choose from a 2011 Kia Soul or the 2011 Toyota Prius.  Renters have 24 hour access to the vehicles on campus and can reserve them anytime online.  All renters are required to have a valid Pa driver's license and be over the age of 18.
After completing the online registration, renters receive their own card to access the vehicles on campus.  Each car contains its own car key and gas card for the driver.  Gas is included in the rental fees and the driver is not charged unless he or she fails to refill the tank after it dips below one quarter of a tank.
According to Paskowski, the WeCars will be regularly maintained at no cost to the renter, unless a sign of negligence is shown.  Enterprise offers customer service and roadside assistance 24 hours a day through their toll free phone number which is included in the member's enrollment packet.
Sister Anne Munley endorsed the program earlier this month.  "WeCar allows us to provide Marywood University students, faculty and staff with a transportation solution that we expect will reduce the amount of vehicles on campus, cut emissions and relieve parking congestion," Sr. Anne said in a press release.
Marywood will track the program and review it after one year. If the program proves successful, representatives from Marywood said the university will consider broadening the program by adding additional cars.
For more information on insurance policies, rate plans, and vehicles, visit wecar.com.