Humanitarian priest turned doctor to address graduates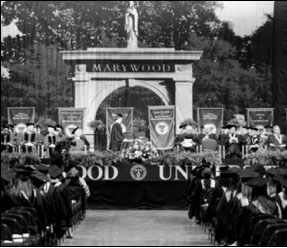 Sarah E. Cruz
Staff Writer
Father Rick Frechette, C. P., D. O. will be the keynote speaker at Marywood University's 93rd commencement ceremony on May 8 at the Mohegan Sun Arena in Wilkes-Barre Township.
Frechette, who will also be awarded an honorary doctorate, will speak on his work in Haiti, encourage the graduating students that one person can make a difference and an impact on the world, and challenge them to go forth and do the same.
John Coval, Director of Conferences and Special Events, said, "Fr. Frechette truly represents Marywood University's goals of service and empowerment." Frechette is the Caribbean Regional Director for Nuestros Pequenos Hermanos, an organization dedicated to improving the lives of orphaned or abandoned children in impoverished countries by providing safe havens for them. Frechette is based in Haiti, serving as the director for NPH's home there. He was featured on ABC's "Good Morning America" tending to the sick and injured after the country's devastating earthquake.
Frechette, born in 1953, was raised in West Harford, Connecticut. He is a graduate of Assumption College, MA, and after attending St. John's University, NY, was ordained a Passionist priest in 1979.
Following his ordination, Frechette spent four years serving as a parish priest in Baltimore. He then went to Mexico, where he was introduced to Father William B. Wasson, founder of Nuestros Pequenos Hermanos, Spanish for "Our Little Brothers and Sisters." Frechette worked alongside Wasson in Mexico and subsequently assisted in the founding of a second orphanage in Honduras.
Wasson and Frechette decided to found an orphanage in Haiti after seeing the great work being done there by the Sisters of Charity. The sisters, whose order was founded by Mother Theresa, were caring for the babies of mothers who were dying, mostly from AIDS.
The orphanage is called Nos Petits Freres et Soeurs, French for "Our Little Brothers and Sisters." Frechette, who earned his medical degree from the New York College of Osteopathic Medicine
in 1998, founded the St. Damien Pediatric Hospital in 2006. According to NPH's website, the 250-bed hospital "provides longterm care to critically ill children and outpatient services to over 17,000 children and adults each year."
Along with St. Damien's, Frechette also began the St. Luke's programs to guide and mentor the children who have out-grown the orphanages. In addition to a regular staff of 190, over 130 young people work to improve their country through such initiatives as 16 street schools, a school nutritional program, and decent burials for the poor. Frechette believes that, "We need to look for solutions to help the poorest children and create employment for our young adults that incorporates dignity and compassion."
Commencement speakers are chosen through a process that begins almost immediately following the previous year's graduation. The Commencement Speaker Committee gathers the names of potential candidates, reviews their credentials, and then makes recommendations to Sr. Anne Munley, IHM, President of the University, who makes the final selection. "Fr. Frechette was chosen for his embodiment of Marywood's mission and goals," stated Coval, who has been with Marywood for ten years. Previous keynote speakers include NBC News Chief Washington Correspondent Norah O'Donnell; Yolanda King, daughter of Civil Rights Activist Martin Luther King, Jr.; Irish Tenor Ronan Tynan; and Environmental Activist Robert F. Kennedy, Jr. Coval, who is also the Chair of
the Commencement Committee, explains that in selecting a speaker, the University doesn't necessarily choose someone for their fame but rather, "We try to select individuals who personify the spirit of Marywood."