Faces of the March: Educators, families and volunteers
The March for Our Lives took place in Washington D.C. last Saturday in response to the Feb. 14 shooting at Marjory Stoneman Douglas High School in Parkland, Florida that left 17 dead.
Find out the stories of those who marched for their lives in the final installment of The Wood Words Faces of the March.
The retired teacher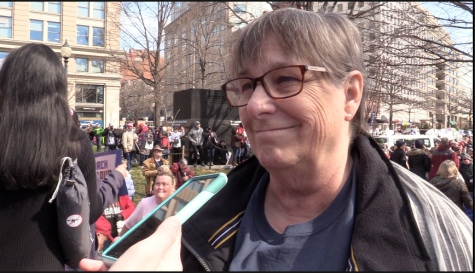 Retired school teacher Debbie Wehking's career didn't include active shooter drills and code reds.
Wehking was an educator in Miami who retired last November. She lives one hour away from Parkland.
"I'm embarrassed that my generation has let this happen, and I'm proud to support our students of today from Parkland," she said.
According to Wehking, who attended the women's march last year, participants felt inspired and became active after that event. She said she thinks this will happen again with the March for Our Lives.
"If we have half a million people here [and] they all go home all over the country and they call their representatives and they write and they march, [then] they can't ignore us any longer," she said.
The Hovick Family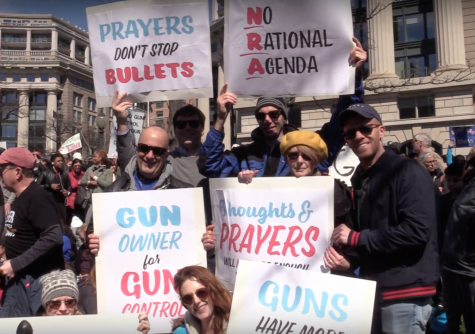 Washington D.C. native Shannon Hovick and her parents Casey and Ted Hovick, who live in State College, Pa., all attended the march to show their support for common sense gun control.
They held signs that read "Prayers Don't Stop Bullets," "No Rational Agenda" and "Gun Owner for Gun Control."
Before putting the National Rifle Association (NRA) first on politicians' agendas, Shannon said elected officials should focus on putting children first.
"Just because it's gun control doesn't mean that we're taking anyone's guns," she said. "We just need a little more rules to keep people safe."
Ted said that he wants lawmakers to understand that gun control shouldn't be feared based on other regulations throughout the country.
"We control everything. We have driver's licenses for people before they go to drive. Why don't you have a license before you have a gun?" Ted asked.
Ted's message to the government: Listen to the people, not the lobbies.
For Casey, the march represents the beginning of change. If people don't show up to events similar to the march, nothing will change, she said.
The Voting Registration Volunteer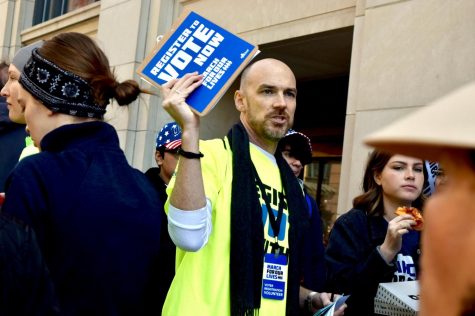 Another Washington D.C. local, Kilin Boardman-Schroyer, walked around the march with a clipboard in hand, asking people to register to vote in the 2018 midterm elections as a volunteer for March for Our Lives.
"We cannot continue to show up on the streets but not show up at the ballot boxes," he said.
Boardman-Schroyer said the marches are a great way to let the youth have their voices heard, but they have to go further to "change the course of America."
"If they actually get out there and take ownership of the power they have," he added.
Boardman-Schroyer's final message: The march marks 227 days until midterm elections; so vote.
The mother-daughter duo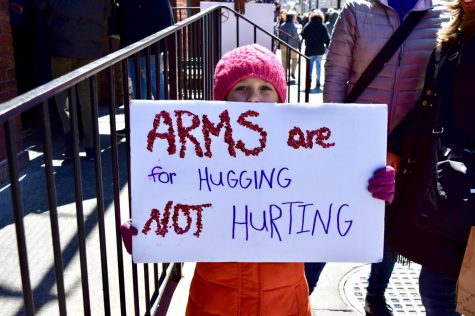 Tricia Moore and her five-year-old daughter Ella traveled from Chevy Chase, Maryland to march together.
Ella designed her own sign, with a combination of red glitter glue and purple marker, reading "Arms are for hugging not hurting." Tricia wanted to make sure her daughter knew her voice was heard.
"It's just showing the kids that their voice has power, and then they'll eventually vote and they'll eventually be able to make these major decisions," said Tricia.
Tricia came out to defend and protect her daughter's rights. She hopes that she'll also be able to show her daughter how much power she truly has.
"Literally children are having their voices being heard and it's motivating a lot of people personally to come out and support them," she said.
The educator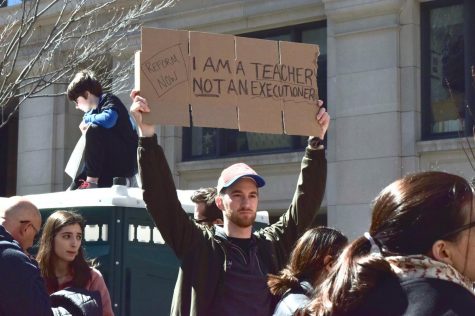 George Foster, a teacher from The Field School in Washington D.C., was inspired by his students during the national walkouts earlier in March.
"I teach high schoolers and their lives matter," Foster said.
Foster was concerned for his students' safety and wanted their voices to be heard. After seeing how his students responded to the recent shootings, he wanted to support them by coming to the march.
But he also wants to make a point about arming teachers. His cardboard sign had a simple message: "I am a teacher, not an executioner. Reform now!"
"I don't want to take the life of a child who I might be able to reach out to," he explained.
Brooke Williams contributed to this report.
Contact the writers: [email protected], [email protected]
Twitter: @RLookerTWW, @BethanyWadeTWW