NEWS BRIEF: Master of Business Administration program receives top ranking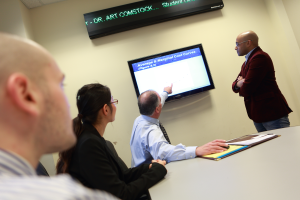 Marywood's Master of Business Administration (MBA) program was recently included on website study.com's list of the top 50 MBA programs in the country.
Study.com ranked Marywood's program 47th out of 50 on its MBA list.
The website compiles rankings based on academic and career resources for MBA students, the quality of education and faculty. The schools were also evaluated based on publicly available school data provided by the U.S. Department of Education such as graduation rate, student retention and student to faculty ratio.
School of Business and Global Innovation Director Dr. Arthur Comstock said the program's inclusion on the list is a great honor.
"We have always believed that our MBA program offers tremendous benefits and opportunities," said Comstock. "The inclusion of our MBA program on this list is a major accomplishment that represents the combined efforts of our faculty and students."
Marywood's program was the only school in Northeastern and Central Pennsylvania to be included on the list.
Contact the writer: [email protected]
Twitter: @BrianaRyanTWW