Joseph Petro
Outlook Editor
Story continues below advertisement
Facebook just got more proactive with protecting its users.
According to The Washington Post, Facebook has teamed up with the National Center for Missing and Exploited Children to make AMBER Alerts bulletins available to users by region.
The social site has also collaborated with the Department of Justice and Virginia State police to notify Facebook users of news on abducted and missing children.  Facebook has recently created 53 new AMBER Alert pages for each state, and in doing so seems to have made one of its most positive contributions to society. But will it prove successful?
The new efforts honor the memory of Amber Hagerman's murder and abduction 15 years ago, for whom AMBER Alerts were named.  The purpose of these new AMBER Alert pages is to return children back to their families safely.  And now, these alerts have an audience of 600 million active Facebook users   But will they take the time to participate in this new feature?
These new pages will make identifying abducted and missing children easier because more people will, theoretically, be pitching in to help. They may also make potential criminals more hesitant to commit these horrible crimes.
AMBER Alert pages will impart information to visitors about what is happening in their state and others. And, they can be accessed from many convenient places, including mobile phones.  The fact that users can access this information anywhere makes it simpler for users to be proactive. According to Facebook, 200,000 users currently access the website through their mobile phones.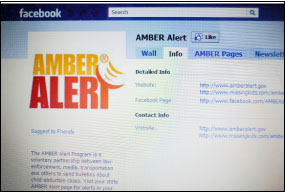 But, according to digitalbuuzblog.com, people spend 55 minutes logged onto Facebook daily.  And, during that time, they are posting photos, updating their online status, or playing games to entertain themselves and others.  Will Facebook users navigate to these Amber Alert pages and spend part of their 55 minutes doing something for someone other than themselves?
Many parents and scholars say that the social network is just another outlet to procrastinate.  While there is some truth to this, this new AMBER alert effort gives the website a more practical purpose. Whether or not people will—or want to—use it for practical purposes remains to be seen.  AMBER Alerts will offer a good test.
It may also exacerbate the problem.  Not unlike many public social websites, Facebook can be used by predators to prey on our young.  According to CBS 47.TV, a predator named Daniel Alvarez was arrested in Fresno in July 2010 after contacting a 15-year-old via Facebook with the intention of wanting to meet the minor.
So, while AMBER Alert pages might be used by people truly interested in helping to rescue abducted kids, they may also be used by predators, putting these kids in even more danger.  Even with all of the recent privacy settings Facebook put in place it cannot keep predators out.
The results of this new program are yet to be seen.  But, I encourage all Facebook users to devote at least 10 minutes during that average 55 minutes spent on Facebook to do something positive.  Visit the AMBER Alert pages.  You may just be able to help a child return home safely.