Meet John Gulden, the new face of Marywood Rugby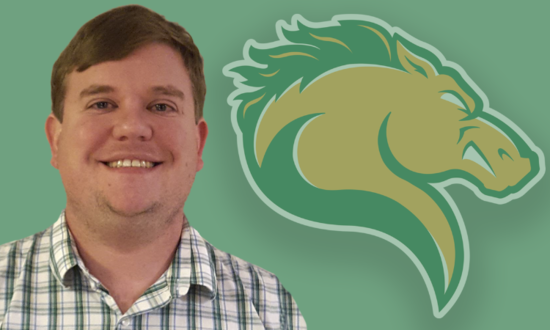 Marywood Athletics has named John Gulden as the school's first men's and women's rugby head coach. The teams will begin competitive play in the 2018-2019 academic year.
Gulden will not only be a full-time head coach, but also serve as Assistant Sports Information Director (SID), according to Director of Athletics and Recreation Dr. Mary Jo Gunning.
Gunning said Gulden has several assets which make him the best fit for these positions.
"He understood first and foremost that winning is important, but not at all costs. He also understood our athletic mission which prioritizes academics," said Gunning. "He understood that as an administrator and a coach here he was going to wear a lot of different hats."
As the head of a new program, Gulden will have to start from scratch, but said he is looking forward to the opportunity and feels he has support from Marywood's administration.
"You can just tell that Marywood is behind its athletics, adding several programs over the last 10 years. You know that the university is supportive of all of its programs, which is a great thing to have for an up-and-coming sport like rugby," said Gulden.
His involvement with collegiate-level rugby began while he was a student at Lock Haven University, where he served as Match Secretary managing the operations department of the club from August 2009 to May 2011.
Gulden graduated from Lock Haven with a B.A. in Sport Administration in 2012 and immediately began coaching.
He became head coach of the women's rugby team at Lock Haven in August of 2012 and then transitioned to lead men's rugby the following year.
Along with his coaching experience, Gulden most recently interned in an administrative capacity for Saint Joseph University's Athletic Department.
Even with his experience, Gulden feels his youth will give him the biggest advantage with players.
"The biggest thing I want to bring is the youth side of myself. I can maybe connect with the players a little bit better than an older coach," said Gulden.
Additionally, Gulden says his age may allow him to easily adapt to rugby's continued evolution.
"Rugby is an ever-evolving sport. There are new rules, new styles and new strategies implemented every year. I pride myself on keeping up with the newest strategies, the newest techniques and safety. That is one thing that I can bring to the table," Gulden said.
Even with youth and experience on his side, Gulden said he understands the tall task of building a program, especially in recruiting players to Marywood.
He added that there are benefits of a brand new program and outlined them as a part of his pitch to potential recruits.
"I tell them about the university and the education they are going to get first," Gulden continued. "The second thing is the uniqueness of having a fully-funded program. I'm a full-time head coach so I'm going to be here for the student-athletes all four years."
Another big selling point for Gulden is that the newness of the program will allow more playing time for recruits.
"You could go to a bigger school that has rugby, but you won't be guaranteed playing time until your junior or sophomore year if you're lucky. If you come to Marywood, you are going to play from day one," he said.
In her almost 30 years as Director of Athletics at Marywood, Gunning has started 17 programs. She admitted it's a challenge, but a "good challenge." More importantly, she believes that Gulden both understands this challenge and shares Marywood's vision moving forward.
"He understands the process," Gunning said. "I'm very grateful that we have a full year for him to recruit. It takes about three to five years of solid recruiting to establish a competitive program. He understands that process. He understands the goals we have and that the final process is never final."
Contact the writer: [email protected]
Twitter: @JohnFerraroTWW