PACERS SPORTS REPORT: Volleyball falls to Notre Dame of Md. in CSAC playoffs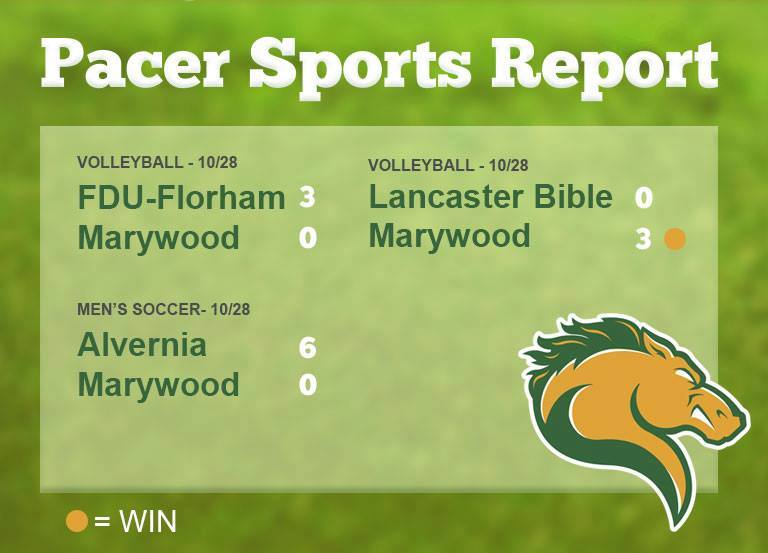 Photo credit/ Carolyn Warcup
Volleyball vs FDU-Florham
Volleyball finished the regular season by splitting a home tri-match.
Marywood lost to FDU-Florham in the opener 9-25, 16-25 and 13-25.
According to the team website, the Pacers' errors proved costly. Marywood committed at least eight attack errors in each set.
The Devils' Melissa Gaffney led her team in three of the five major statistical categories with 12 kills, four aces and 12 digs.
Volleyball vs Lancaster Bible
The Pacers bounced back in the nightcap by sweeping the Chargers 25-23, 25-22 and 25-21.
Freshman setter Annie Heyen posted a double-double with 31 assists and 15 digs while sophomore middle blocker-outside hitter Peri Sheerin had a team-high 13 kills.
The Pacers shot a higher percentage than Lancaster Bible and nearly doubled the Chargers in kills.
Marywood finishes the regular season with a 13-19 overall record with an 8-3 Colonial States Athletic Conference (CSAC) mark.
Men's Soccer vs Alvernia University
Men's soccer also closed out its regular season on Saturday as the team hosted non-conference opponent Alvernia University.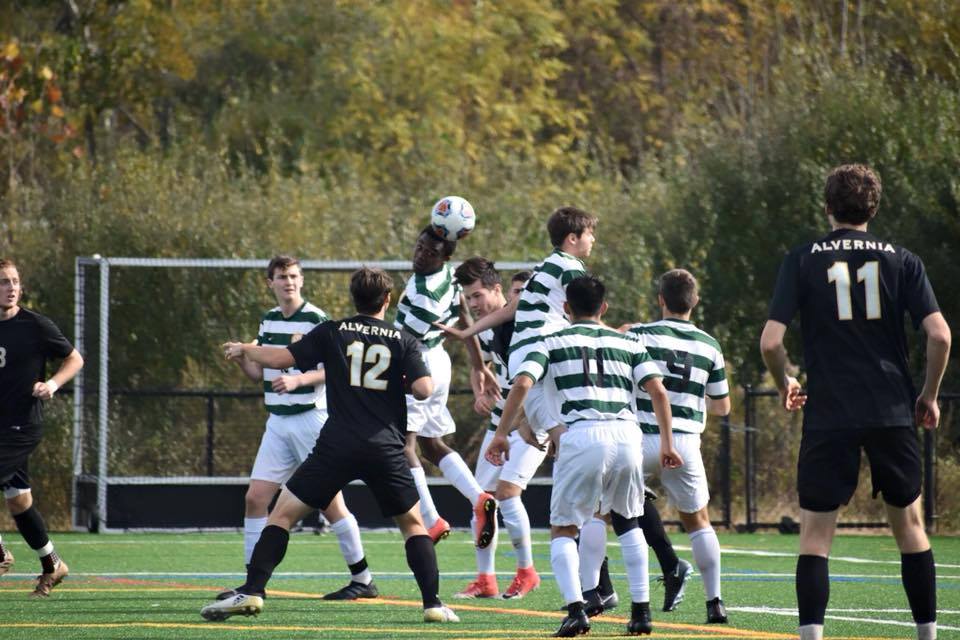 Photo credit/ Mikayla Satkiewicz
Alvernia struck first with a goal from Raine Slovak in the 15th minute. The Pacers locked down defensively and kept the Golden Wolves from scoring again for the rest of the period.
The Golden Wolves put the game away early in the second half with four goals in a 10-minute span.
The Pacers tallied just five shots total with only one shot on goal.
Marywood closed the regular season with an 8-8 record.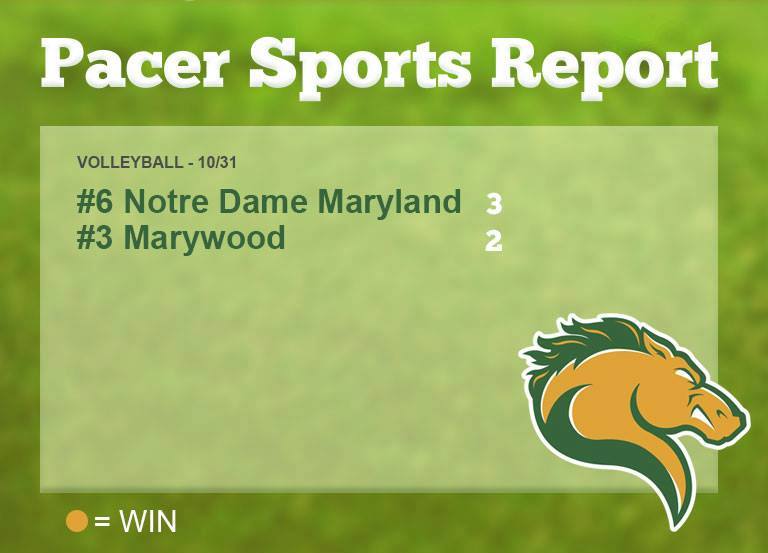 Photo credit/ Carolyn Warcup
CSAC First Round
#3 Volleyball vs. #6 Notre Dame Maryland
The volleyball team's season came to an end in heartbreaking fashion.
After jumping out to a two sets to nothing lead, the Pacers lost three-straight sets to the Gators. Marywood fell by scores of 25-19, 25-19, 21-25, 28-30 and 10-15.
The Pacers were on the verge of a sweep, going up 19-14 in the third set before the Gators rallied for seven-straight points.
The Gators gained even more momentum in a thrilling fourth set. After Marywood took a 20-19 lead, Notre Dame tied it back up at 20.
Both teams traded the lead multiple times. With the Pacers down 27-28, Heyen assisted Sheerin to tie the set at 28-all.
Notre Dame won the next two points with back-to-back kills by Kayleigh Davis and Sarah Sweet. The Gators took control late in the fifth set to advance to the CSAC Semifinal against Cabrini University.
Contact the writer: [email protected]
Twitter: @JohnFerraroTWW