Students traveled to serve less fortunate on alternative break service trips
Every year Marywood Campus Ministry sponsors Alternative Break Service throughout the year to give students the opportunity to visit new places and serve those in need.
This year, Marywood students traveled to Grundy County, Tennessee to serve those less fortunate over spring break from March 7 to March 14. The trip ran despite the cancellation of two other service trips due to concerns regarding the coronavirus (COVID-19) outbreak, according to Assistant Director for Service-Learning and Community Service Ann O'Brien.
One of the cancelled trips was to Jamaica, where according to Junior Clinical Psychology Major and team leader Marc Crilly, the group planned to assist children with disabilities living in Mustard Seed Communities.
Crilly said in the past he has most enjoyed seeing the residents and their contagious smiles.
"Whether you believe in God or not, I just think you feel a presence there. Like there's just a heartwarming presence during the whole trip," said Crilly.
According to O'Brien, the second cancelled trip was to Guatemala. Graduate Student Physician Assistant Major and team leader Katie Roth said the students had planned to provide medical assistance, help with height/weight and diabetes clinics and provide nutritional education to the people living in San Lucas Toliman, Guatemala
The two Alternative Break Service Trips that did occur as planned were the trips to Tennessee and to the U.S./Mexico border in Tuscan, Arizona.
According to Junior Religious Studies Major and team leader on the Tennessee trip Brien McChesney, the Marywood group worked with the Mountain T.O.P. organization to perform major and minor home repairs for low income families in Grundy County, Tennessee.
McChesney said this year marked the first time Marywood went to Mountain T.O.P. but that he has been there several times both as a participant and a staff member.
"I see God working through Mountain T.O.P. very clearly, just in how well [the Mountain T.O.P. organization is] able to love and serve the community that they're a part of and also the campers that come through," said McChesney.
According to McChesney, the trip also provided an opportunity for students to learn how to use new tools and equipment in a safe environment.
"It's kind of a challenge by choice mentality," McChesney said. "If you are not comfortable at all using a circular saw, no one is going to force you to use that circular saw. And if you've used a circular saw in the past and you want to do that, awesome, but if you're kind of in the middle but you want to give it a shot, there will be people around to sort of teach and mentor that so that you have that ability."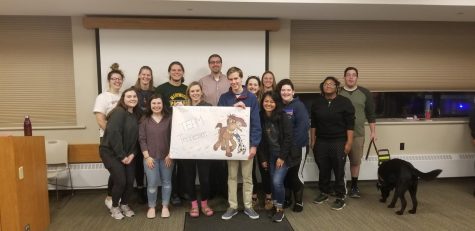 McChesney said he hoped the trip was a learning and growing experience for those involved.
"I always describe it as a thin place because I know God's always around and with us, but sometimes there's a lot of distractions, lots of things to get in the way and it just feels like a lot of those distractions are wiped clear," McChesney said. "It's very clear to see God working in and through as people are being loved and loving and serving and being served."
Contact the writer: [email protected]
Twitter: @ederoba_tww