New Student Retreat Review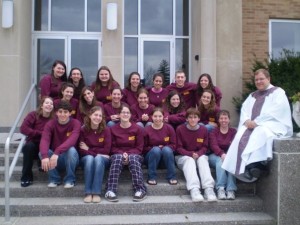 By Alison Trautmann
Staff Writer
From November 7-9 a group of freshman students from Marywood as well as upperclassmen "team leaders" and Marywood's chaplain, Father Brian Van Fossen gathered at the Fatima Retreat Center in Dalton, PA for the New Student Retreat or "NSR" as it is affectionately abbreviated.  It was a weekend of getting to know other students that were new to Marywood as well as enabling each student to individually reflect upon their college experience so far.
The team leaders started off the weekend with icebreakers and other activities designed to help the new students to get to know each other.  Paper snowball fights and name games were just some of the icebreakers that were used to help the new students become more comfortable with each other.  One activity involved each person showing the group three items that they would take with them if they were stranded on a desert island.
After the games were over; the team leaders gave talks about different aspects of the transition from high school to college as well as their decisions for the future.  After the talks, the students would split up into small groups in which they discussed different questions and continued getting to know each other.   The first night involved the students writing their fears on a piece of paper and folding it around a rock.  The next night the students threw the rocks into the lake and threw the paper into a fire to symbolize letting go of their fear.  The final night of the retreat involved adoration, prayer and a bonfire.  The weekend ended by celebrating mass together on Sunday afternoon.
The weekend proved to be a good experience for all.  Senior Janean Shedd said that "The weekend was truly amazing!"  Freshman Lindsay Burke agreed, "I'm so happy I decided to go on this retreat. I met so many new people and made a lot of new friends who share my faith."  Leann Ostrow agreed with Lindsay, adding that "Throughout the weekend, I got the idea of how close the school community really is and how everyone cares about one another."