Marywood students pitching in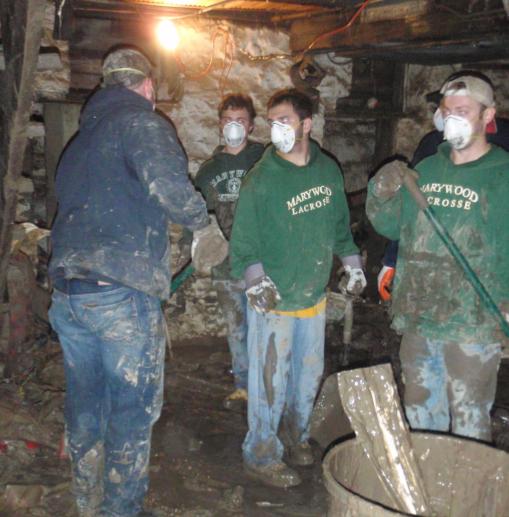 Communities all around Pennsylvania were devastated after floodwaters began to rise on September 18th, damaging or destroying thousands of people's homes, property and possessions.
In this time of great need, friends, family, and strangers have come together to help those who have been affected by the worst flood since Hurricane Agnes in 1972. Marywood University has reached out to the surrounding communities to help with donations, volunteering, and support. This appeal has received a great response from students, faculty, and even alumni willing to help the flood victims.
News about the flood victims, which included Marywood students and faculty, spread quickly throughout campus. Ann O'Brien, Assistant Director for Service-Learning and Community Service, took on the task of coordinating the flood relief efforts on campus, and said she was thrilled with the great support students gave.
The first week after the disaster, 57 students and faculty volunteered to assist flood victims in West Pittston, an area severely damaged by the flood. Clubs, organizations, and Marywood alumni also signed up to help with flood victims all the way into November.
"This great participation really shows the heart of Marywood students wanting to serve those in need," O'Brien said.
Volunteers have already done a great deal of work gutting out houses and trying to clean up what the floodwater has destroyed. Meghan Coyle, a graduate student at Marywood who has volunteered numerous times in flood relief efforts, said she was shocked by the severity of flood damage when she experienced it firsthand.
"You can go driving around the neighborhoods at night and see only black. They don't have power or fresh water and they are still scared with all the rain," Coyle said. "You walk in a house and can see straight through because there are no walls, furniture, nothing. It gives you an eerie feeling."
O'Brien said that the relief and restoration process for all of the flood victims will continue for all those who have lost their homes or had severe damage. O'Brien will continue to organize the volunteer effort, and said that there is a job for anyone willing to volunteer. Valued efforts range from physical labor to help with clean up to donations of food, blankets, or money.
Volunteers are also needed in soup kitchens to help with providing meals for victims.
Anyone interested in joining in the relief efforts should contact Ann O'Brien at [email protected].