New Student Retreat welcomed freshmen
Morgan Strasser
Staff Writer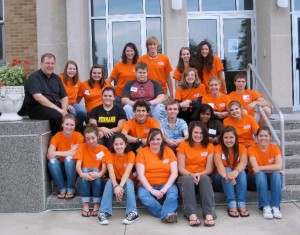 This year's New Student Retreat was held on September 17-19 at the Fatima Retreat Center in Dalton. Father Brian F. Van Fossen, Chaplain of Marywood University and director of the program, and upperclassmen welcomed new freshmen Marywood students.
The goal of the retreat was to ease the new students into the transition to college through the use of icebreakers, inspirational discussions and other fun activities, all while building a stronger relationship with God. Both large and small group discussions were used to get everybody acquainted with one another and with God and to make the new transition a little smoother. The large group discussions consisted of prayer and fun icebreakers, followed by a large group activity. Everyone then broke up into small groups, which were led by upperclassmen team leaders.
Each class's team leaders gave a different themed talk. The sophomores discussed the transition from high school to college. The juniors discussed the present and what it means to be a part of the Marywood community, while the seniors discussed the future. James Rafoth, a sophomore returning to the retreat as a team leader, discussed friendship.
"[My talk] ended on trying to get [the new students] to realize they aren't alone in the world in the way they feel and they never have to feel like they're alone," Rafoth said. Designated downtime also allowed the students to reflect on everything in a quiet environment. "That's the thing as college students, [there is] not a lot of quiet time in the world. It's very rare. [This] gives them that opportunity," Father Brian said.
According to Father Brian, students tend to forget that college is supposed to be fun, too. "Sometimes we get so bogged down with homework and so many other things, like projects, that we forget college is supposed to be fun and to not steal that time away, not to cheat yourself from that opportunity," said Father Brian.
The retreat offered opportunities for fun and a break from schoolwork. There were different sporting activities such as basketball, volleyball and even Frisbee. Card games were a popular activity, as well as arts and crafts. There were also activities as simple as listening to music or even talking with each other. The crowd pleaser of the trip is usually the annual bonfire and that was no exception this year.
Freshman nursing major Katie Kiely said she enjoyed the more sentimental activities, like journaling. Journals filled with inspirational songs and scriptures were passed out to the new students. The students were asked to write journal entries on their experiences on the retreat for them to look back on in the future.
"I think that was really important to me and that was such a good idea," Kiely said of the activity. Kiely said she got a lot out of the retreat and would love to return next year as a team leader. "I would love to be able to be a part of that again," said Kiely. "It was the best experience I ever had, to be honest. It was the best weekend of my life," she said.
A total of twenty-two students attended the retreat, including Kiely, making this year one of the largest in its approximate twenty-year existence. The retreat was previously held in November, but was bumped up to September this year.
"We actually increased our numbers from last year, which means the dates didn't really matter all that much. In fact, they probably helped our numbers in the long run," Father Brian said. All in all, the New Student Retreat, gave the freshmen a great start to their time here at Marywood.