Club Spotlight: The Peace Club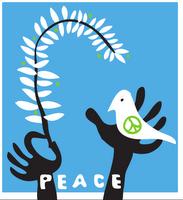 The Peace Club is aiming to make a difference not just in our local community, but the global community.
"This club is really important because I don't think people realize the impact that they can have on the community and even on strangers.  Getting involved with this club is one step closer to making a change," said Club President Grace Morrissey, philosophy major.
The Peace Club, which started on campus last semester, is made up of about 30 students who are dedicated to making a difference.
"Our goal is to better our community locally, globally, and environmentally," said Ellen Clauss, vice president and sophomore marketing and philosophy major.
This summer the Peace Club introduced their goal to the younger generation by hosting Peace Camp. Peace camp was offered to kids ranging in the ages 5-13.
"It was really fun. We had about 50 kids there and we taught the values of peace, problem solving, cooperation, and conflict resolution over the course of four evenings," said Clauss.
The Peace Club has more plans for this coming semester. They will soon be partnering with the Music Therapy club to hold a day of peace that will aim to teach people respect toward diversity and other cultures. This closely ties in with Respect and Service, which are both listed in Marywood's Core Values.
The Peace Club's hunger action and awareness committee is also planning a 30-hour famine.
The reason people should join this club is simple, according to Clauss.
"Our idea is that we are action- and awareness-based, and one can't thrive without the other. So, the more manpower we have, the more good things we can do. The more people we have, and the more support, the more we can accomplish and make an impact on the world around us," said Clauss.
The Peace Club meets every second Thursday of the month at 9 p.m. in the Fireplace Lounge. To keep up with The Peace Club, visit their Facebook page or find them on the web at marywoodpeaceclub.com.
About the Contributor
Satara Dickey, Editor-in-Chief
Satara is a senior, broadcast journalism major. This year she serves as the Editor-in-Chief for The Wood Word. Satara hopes to write for a magazine, newspaper,...