Pinning with Vikki: Leaf Lanterns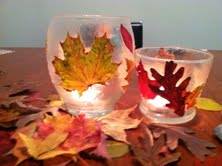 Looking for a way to make your dorm room festive for the Fall season, without hitting the store for expensive decorations? Pinterest user "Happiness is Homemade" has your solution.  Leaf lanterns or leaf vases are the perfect inexpensive fall afternoon art project to do with your friends to decorate your dorm room this season.
What you will need:
1. Assorted leaves (8-10) Assorted size and color of real leaves from any tree.
2. Glass container (vases or Mason jars work best)
3. Mod Podge (found at most craft stores)
4. Large paint brush
5. Real or battery-operated candle  (found at most craft stores)
Step 1- Pick an assortment of leaves to use for your jar. Depending on the size of your jar, the number of leaves will vary.
Step 2- Place the leaves in a large book to flatten them out for about 24 hours.
Step 3- Next, find a glass jar, vase, or bottle and paint a thin layer of Mod Podge on the jar.
Step 4- Then,  position the leaves however you would like on the glass. Paste another coat of Mod Podge over the leaves to keep them in place. Let the glass dry for at least 3 hours.
Step 5- Next, take a candle (or battery operated candle for dorm rooms) and place it inside your jar.
And there you have it. Now you have a fun fall, decorative lantern for your room!
For more information about this craft visit: http://www.happinessishomemade.net