UPDATED: SGA takes budget concerns to Board of Trustees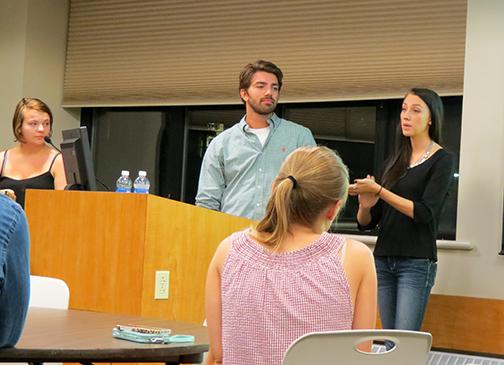 Editor's Note: An earlier version of this article stated that SGA's projected budget was $469,000 based on the Student Activity Fee policy, which says that all monies collected from the Student Activity Fee are directly allocated to the SGA. After publication of the article, Melissa Kowalski, SGA president, informed The Wood Word that their actual projected budget was in fact $310,000–a figure that they arrived at based on the previous year's SGA allotment.

However, it appears that SGA's new budget of $250,000 reflects an approximate 20 percent budget cut rather than a 25 percent cut, a figure previously disclosed by Kowalski and reported by The Wood Word on Sept. 3.
The Student Government Association (SGA) has taken concerns regarding potential discrepancies with its budget to the Board of Trustees in a letter and an in-person meeting.
The SGA letter to the board said, "With our current enrollment numbers (1761 [full time], 194 [part time]) the approximate incoming [money from the student activity fee] is $469,000."  Those fees are described on the Marywood website.
The Marywood website says that all monies collected from this student activity fee are to be "directly allocated to the Undergraduate Student Government Association, which, in turn, provides all students the following: weekly and weekend programming; funds for the student newspaper; allocations to various student clubs and organizations, including the commuter and resident committees; and the production of a major concert."
Instead, this year's allocated SGA budget is $250,000, a figure that already includes an approximate 20 percent cut from their anticipated allotment of $310,00, a figure SGA arrived at based on previous year's budgets. That total is less than half of amount that SGA should be allocated based on the Student Activity Fee policy and this year's enrollment numbers.
According to the letter, SGA was notified of the budget cut this past July, though they usually receive the budget information in January of the previous school year.
Members of SGA met with the Board of Trustees on Oct. 16 to discuss their budget for this school year along with other issues. According to Kowalski, SGA wrote the letter and requested the meeting with the board after taking their questions about the budget discrepancies to Sister Anne Munley, IHM, Ph.D., president of Marywood, and Joseph X. Garvey, vice president for business affairs/treasurer and not receiving specific answers about the inconsistencies from either person.
In an email to Garvey, SGA asked about the differences in the amounts of money students are paying into the activity fee and how much of that money was actually allocated for SGA. Garvey did not provide them with an answer to that specific question.
"It was not addressed [in his response]," Kowalski said.
The budget discrepancy, however, was not the only reason for writing the letter. Kowalski said numerous students have voiced concerns to student government about issues on campus from parking to finances.
"At first we thought it was just a few students with very strong voices, voicing their opinions," Kowalski said.
However, after more students started attending SGA meetings and asking questions and raising concerns, SGA decided to act.
The tipping point, she said, was the petition that circulated among students in September.
"We found that [the petition] was done improperly, and we couldn't put our name on something like that," Kowalski said. "We felt it didn't ask the right questions, but it did involve a lot of students, so when such a number of students get involved with something like that, we need to address it."
Kowalski said the board was responsive during their meeting and that they asked questions about whether SGA brought these concerns up to administration beforehand.
"I got the feeling [that the board] was unaware of these student concerns," Kowalski said. "We just want a little more backing to finding out these answers," she said.
She said she is concerned that the board will not address those concerns given that the trustees dismissed the faculty's votes of no confidence in Sr. Anne and Garvey.
"I felt like they dismissed a very strong statement [from the faculty], and that leads me to believe they might do the same thing for the student concerns," she said.
If the board does not respond to SGA, and they do not receive answers to the questions posed in the letter, Kowalski said they are prepared to continue to try and get answers for students.
"If that doesn't work, we're looking at alternatives," Kowalski said.
Kowalski announced at Tuesday's Student Government meeting that she was meeting Thursday with Sr. Anne and Ann Boland-Chase, vice president for enrollment services and student success.
Sr. Anne, Garvey and members of the board of trustees could not be reached for comment.
Amanda Duncklee contributed to this report.
Contact the writer:
@BrigidGraceTWW