Marywood community remembers alumnus Frank Winger
Last week, the Marywood community lost one of its members: Frank Winger, Class of 2017, who passed away on Monday, Feb. 5.
The Allentown native earned his degree in business management and involved himself in extracurricular activities at Marywood and throughout NEPA. Winger's zest for life and entrepreneurial spirit led him to seek ways to affect positive changes in his community.
Even before entering college, Winger had a passion for event planning and leadership. Jeanmarie Winger, Winger's first cousin, recalled times from their childhood and remembered him as "a unique person." She recounted a birthday party Winger planned for himself at their grandparents' home, for which he designed menus for his guests.
"He was really, at seven, already an event planner," said Jeanmarie. "He already had a passion for coordinating, planning things … He was always willing to take charge and be the leader, not only in our family, but also in our friend groups."
Jeanmarie remembered her late cousin's excitement about being a Marywood student as well as his plans after graduating from the university.
"He had a very bright future ahead of him. He did have a very amazing life. I don't think there's anyone who lived their life like Frankie did. He had so many connections—he basically knew everyone," said Jeanmarie. "He'll never be forgotten."
While at Marywood, Winger and alum Tim Kane, Class of 2016, founded and organized College SnowJam, an annual intercollegiate event that takes place on Montage Mountain each February. The event's goal is to offer college students a fun day where they can participate in winter activities such as snowboarding and skiing, as well as meet new people. The fourth annual College SnowJam took place Saturday, Feb. 10 and was held in Winger's honor.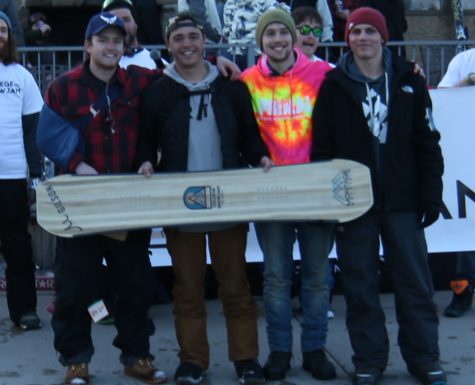 Marywood alumnus Jim Asbury, class of 2016, remembered his high school years with Winger at Allentown Central High School. While in high school together, Asbury and Winger took honors classes together and did Scholastic Scrimmage, which is a trivia challenge for high school students.
"He was a trivia guy—he just liked to know things, and he liked people to know he knew things," said Asbury.
The two combined their talents on a documentary for a high school competition. Asbury wrote the script and Winger produced the video. Although Asbury remembers the documentary being well-made, they did not win since the video was "too exciting."
"[The judges] told Frank they couldn't pick it because the video was too exciting; they wanted something serious and studious," said Asbury. "I had to laugh because of course Frank would make something that's too exciting to win."
While in a Business and Entrepreneurship class at Marywood, Winger conceived an idea designed to aid in others' safety: lights that attached to longboards as a way to increase riders' visibility. In 2015, Winger and classmates Michael Neri, class of 2015, and Sarah Liang, a senior business management and marketing major, collaborated on the design and entered Late-Skate in TecBridge's 13th Annual Business Plan Competition.
Dr. Chris Speicher, associate professor of marketing and entrepreneurship, attended as well. The trio's ingenuity and dedication to Late-Skate earned them first prize in the 2015 competition.
Speicher met Winger during his freshman year. Speicher taught a University 100 class and recalled Winger, on the first day, asking Speicher if he liked to ski.
Speicher responded that he does like to ski and from that day on, the two became "really good friends," according to Speicher.
"He was a frequent visitor of my office up until three weeks ago," said Speicher. "We worked literally hundreds of hours getting [Late-Skate] started… he was just a kid that was full of really good ideas that had merit."
Speicher remembers Winger as an intellectual, eager student and considers him a part of a "very, very elite class of student" who had "the most amazing intellectual curiosity about everything."
"It was a challenge to keep up with him and make sure he had material that was going to keep him occupied. All the faculty had to work a little bit harder with Frank, but I think it made me a better teacher," said Speicher. " Frank was a once in a lifetime student."
During his time on campus, Winger often donned the persona of Megaphone Man, who, according to Winger in a Wood Word article from 2015, "is a super-hero and is a symbol for happiness." Using a megaphone provided by Student Activities Crew (SAC), Winger rode through campus in friends' cars and announced upcoming Marywood events.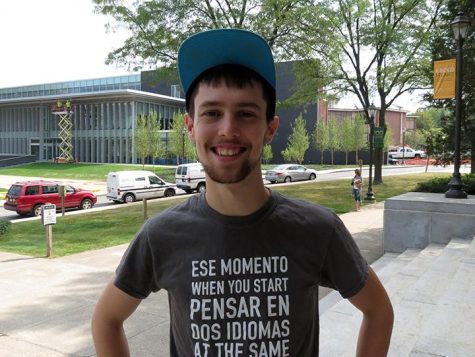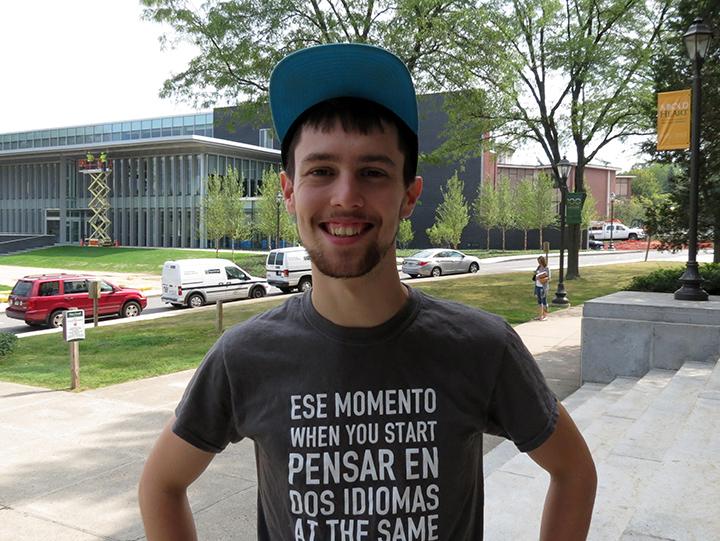 Marywood undergraduate alumna and current public administration graduate student Maria Temples worked with Winger to plan events on campus, and the two founded Marywood's Commuter Committee. The former Student Government Association (SGA) President met Winger through SGA and remembers his enthusiasm.
"He was always the first one to come up with a really cool idea," said Temples. "You could sit down with Frank for five minutes and he'd get you excited about a pencil. That was just something he really shined at: getting people excited for events he came up with. He was always thinking of something new."
Temples also remembered Winger's passion for collaboration with his peers and his support for friends' talents.
"He was a great friend… whatever your talents were, he wanted you to get on board [with a project he was working on]. I think that's pretty amazing," said Temples.
Winger had an obvious love for Marywood and dedicated his time and talents to assisting with and promoting events. His involvement in Marywood affairs earned him an invitation to the fourth annual Community Leadership Celebration this past May.
According to a Facebook photo caption from Feb. 27, 2017 that appears on Winger's Facebook page, Winger dreamed of owning and organizing a music festival for all people to enjoy. In the caption, Winger is quoted as saying, "I find fulfillment is creating unique and thought-provoking experiences to inspire those to pursue their ambitions."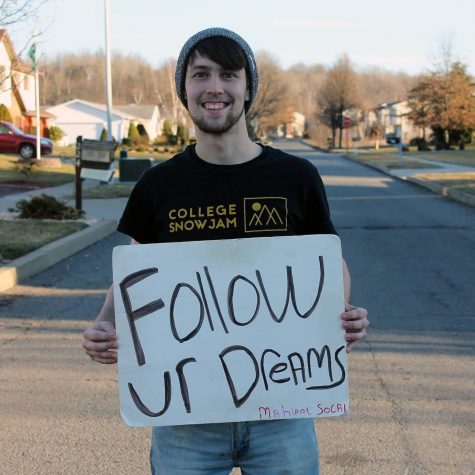 Contact the writer: [email protected]