Business students plan to launch Kickstarter campaign for invention
Marywood students Kendall Farrell and Dimitri Thompson are anticipating a Kickstarter launch of their invention "Uni-Glide," a device that cleans the undercarriage of a car.
Kickstarter is a funding platform that helps creators with original ideas launch their product.
The two senior business students, who are also responsible for developing Maywood's shuttle system, first met on a recruiting trip for basketball. After discovering that they both grew up in New York and had similar childhoods, they decided to team up as business partners.
Farrell and Thompson said they formed the idea of the Uni-Glide through a tecBRIDGE competition. The two independently entered the competition but represented the university.
"We had one concept of what it would look like," said Farrell. "With the professionals that they offer you throughout the competition, we were able to fine tune some things."
The two also worked hand in hand with Dr. Chris Speicher, associate professor of marketing and entrepreneurship, and said he was a mentor for them.
Thompson said they have also been working with car detailers to get their input on what they would personally look for in a product in order to make the best product possible.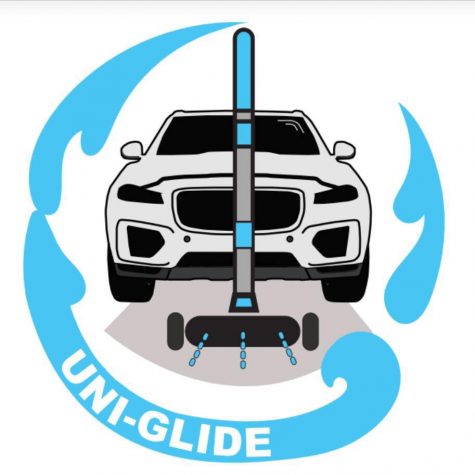 Farrell said they were inspired to create this device to resolve a commonly seen problem in their home town during the winter season.
"Being from New York City, we deal with a lot of road salt," he said. "Everyone who drives in the city has had a moment where they're stuck behind a truck leaving salt on the road and anything could happen to the bottom of your car."
Thompson explained that road salt causes corrosion and could potentially damage the undercarriage of a car.
"The analogy that we like to use is that it's like flossing," he said. "Cavities are growing in your teeth, but you might not see it and it's the same concept with the undercarriage in your car."
The two have been working on the Uni-Glide for nearly two years and expect their Kickstarter campaign to be launched this December. Thompson said their end goal is to eventually start their own business development company.
"All of these projects, like the campus shuttle and the Uni-Glide, are like prerequisites to help us gain business knowledge," said Thompson.
To learn more about the Uni-Glide, visit the T & F Products Facebook page or tfproducts on Instagram.
Contact the writer: [email protected]
Twitter: @TatianaTellTWW