New Athletic Fields Thanks to Mine Land Reclamation Projects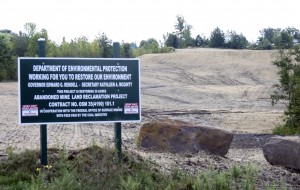 By Erica James
Staff Writer
Drivers headed down Interstate 81, or along Olyphant Avenue, now pass a brown, contoured 30-acre piece of land, which before they could scarcely see. The reason for the increased visibility is because old brush and debris have been cleared away from the old mine site. Under a $467,907 contract with the state's Department of Environmental Protection's Bureau of Abandoned Mine Reclamation, Berner Construction, Inc. has been restoring the landmine since March 2008.
BAMER has been busy bulldozing and excavating the landmine in preparation for Marywood University athletics. The process of the reclamation will include the grading and backfilling of 301,000 cubic yards of on-site mine spoil to reclaim an abandoned strip pit measuring 250 feet in length and 40 feet in depth. The ultimate goal of the reclamation is to create three athletic fields, including a lacrosse multipurpose turf field. The turf field will be used for men and women's lacrosse, soccer and field hockey. Lacrosse at Marywood will be in its second season this spring.
"The new field is greatly needed," said Mick Grant, men's lacrosse coach. "I can't wait."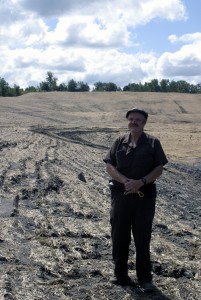 The area, which was once part of the Pennsylvania Coal, Marvine, and Richmond Collieries, is being re-vegetated with grasses and legumes. "I've been here for 10 years and we've always been looking to build on this site," said Marywood physical plant director Wendy Yankelitis. To convey storm water runoff, a rock lined ditch will also be constructed.
The $2.2 million dollar project has been discussed at Marywood for the past five years. "It should be a good sign to our student athletes and our Marywood community of the support that our president and vice-presidents are giving to athletics and recreation," said Marywood Director of Athletics Dr. Mary Jo Gunning.
Practice for other sports, recreational activities and health and physical education classes will also take advantage of the new field. Other groups and organizations will be able to use the fields for a rental fee.
As of now four Marywood sports teams use one field for practice. Along with sports competition and practice, it is hopeful that lacrosse and field hockey camps will be held in the summer. The addition is also expected to recruit more athletes to the Marywood family as it will be a fabulous attraction.
Students will also enjoy a less bumpy ride up to the field as the dirt road behind McGowan Center will be paved. A new access road to the restored land and minimal parking will also be provided.
Dynamic compaction is expected to begin in early October and the turf field is expected to be completed in spring 2009.