Joe Ross Leaves Behind Legacy at Marywood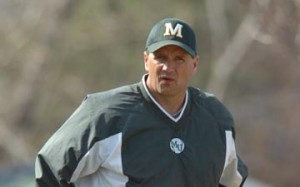 By Christian Wagner
Sports Editor
"He is one of my best friends. He will do anything for you at anytime, no questions asked," said interim Coach Jerry Davis, who was chosen to replace Joe Ross this season after he resigned to accept the position as director of facilities and construction at Commonwealth Medical College, according to a press release issued by the Sports Information Staff.
Coach Ross started the baseball program at Marywood, and was the head coach for all 14 years. He compiled a 174-295-1 record over his tenure.
"If there was one term I would use to describe Joe, it would 'role model'," said Dr. Mary Jo Gunning, athletic director for Marywood. "That's his legacy here, the example he set for the players," continued Dr. Gunning.
"Joe taught me everything I know. I thought I knew it pretty well until I began to coach beside him. He would break down plays and situations, and I wouldn't see it until I revisited them later," Davis said.
Dr. Gunning noted how Ross would always go above and beyond in pre-game, field maintenance, and also in his administrative duties as Head of Security.
"Coach Ross will also be known for his organizational skills," said Davis. "He would have such a decisive practice and game plan, and would follow it."
According to several players on the team, Ross took a crucial role in fundraising for the program and running the summer baseball coach.
Coach Davis recalled one time where he truly realized how on top of things Ross was. "I was thinking of something and mentioned it Joe, and he responded 'I am two steps ahead of you, already done.'"
Dr. Gunning added that she felt honored to work with Ross and knows that his spirit will carry on.
"He started the program from the ground up. He is Marywood University Baseball. He developed respect in the conference and around the campus. He bleeds green and gold," said Davis.