Q & A with Eric Tangradi: Wilkes-Barre/Scranton Penguins forward talks to The Wood Word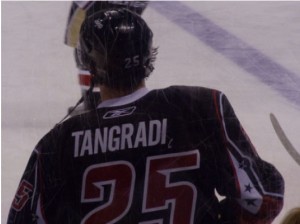 Amber Mohrmann
Staff Writer
Q: When did you start playing hockey?
A: I started [floor] hockey probably around the age of 6 or 7, but I didn't play ice hockey until I was 9 or 10.
Q: Did you always want to be a professional hockey player?
A: When you're young of course every kids dream is to become a pro hockey player, but I didn't really know how realistic that was until I turned maybe 16 years old when I really thought I had a chance and really focused on it.
Q: Last year you played a lot for the Wilkes Barre-Scranton Penguins, how do you think playing in the American Hockey League prepared you for playing in the National Hockey League?
A: I think the schedule in the AHL is much more difficult than it is in the NHL so I think the first year in Wilkes Barre definitely helped me tremendously as far as getting used to the pro season and also it was the first time I lived on my own so I think I may have learned more off the ice than I did on the ice from last season.
Q: This season you have played 9 games in Pittsburgh. What did you learn while you were there?
A: It's a tough league and it's a grind for sure. I had a really good summer and I was able to make the team out of camp but the nine games have taught me that you need to be consistent to stick around up there. I had a good time while I was there and of course I want to get back but I've learned that consistency is the biggest aspect of your game you need to bring to the field no matter how good you are.
Q: Did you learn a lot from watching players like Sidney Crosby and Evgeni Malkin?
A: Yeah, I'm not nearly the caliber of player they are but as far as preparation and how they treat their bodies and how they prepare for even practice, you learn things like that. You treat everyday like it's a game and that is their job, and they take a lot of pride in that so those things definitely I've taken out of their game and try to implement in my time in Wilkes Barre.
Q: Is it hard to adjust from playing with your line mates in Wilkes Barre compared to playing with your line mates in Pittsburgh?
A: It's definitely been tough, you get used to playing with certain people for a month and then you get sent down and boom you're with other line mates, so it was definitely tough early on but I think I'm starting to get used to game here in the AHL and starting to match up some line mates.
Q: What's the atmosphere like in Wilkes Barre? Has the attitude changed because the team has been doing so well?
A: Yeah I think the key in any successful winning team is confidence. I know that every guy in our locker room knows that if we play our game every night from here on out we can do special things. I think the fans are behind us and they've seen we're off to a good start, but I think we still have a lot of hockey left to prove to them that we can be a serious contender and from that we can only hope that more and more people become interested in the team and show up at the arena. The more people we can show our talents to definitely makes it easier on the ice.
Q: The team this year has beaten the Hershey Bears four times this season, including twice at the Giants Center (the home of the Hershey Bears), what it's like to win against a big rival like that?
A: It means a ton especially after last season we were only able to win one regular season game against them, so they've had our number over the past few years, especially last year, so to be able to bring a team into Hershey and win a game and also beat them at home a couple times it's been important to our team because the Wilkes Barre/Hershey rivalry is something that's gone on for a long time and it's important to the city and to us.
Q: The team this year is a favorite to win the Calder Cup, what do you think the team has to keep doing to win and get that far?
A: I think we can't look ahead to the Calder Cup. I think the most important thing is to make sure we play our game every single day and never try to look ahead. Because the team we have today is very good but if we play the same hockey we did today we're not going to win the Calder Cup. We just need to focus on getting better every single day and focusing on what we can control now and if we have a great season and playoffs come then we can take care of that scenario.
Q: Who has had the biggest impact on your life and hockey career?
A: I'd say two people. My dad has definitely been a tremendous impact for me. He didn't grow up playing a ton of hockey but he made a huge effort when I was a kid growing up to make sure I could get to those extra skating lessons and those extra workouts. He's been very important in my life. Also, my minor hockey coach Ed Hospodar. He was the one who really told me to go to Canada and play in the Ontario Hockey League, which I think was the turning point in my career.
Q: Are you having a lot of fun in Wilkes Barre with the team?
A: Yeah we have a good group of guys this year, it's kind of nice in Wilkes Barre because we've always had a younger group of guys, so there hasn't been too many guys that have been to caught up with their families even though there's still a few. But there's still a young group of guys and we're pretty close and we like to have some fun together.
Q: What do you want to accomplish in your career as a hockey player?
A: Of course I'd like to be, at this point, a regular player in the NHL. Just to be able to know that I'm going to be in the lineup every night and go from there, but as far as an overall career I'd love to play for as many years as I can, and of course like any other kids dream would be to hold the Stanley Cup up at some point.