Brett MeGee: Soccer Standout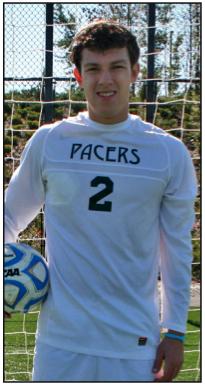 What year are you?
Senior
Where are you from?
I was born in Conway, S.C, but I have lived with my family in Easton, Pennsylvania for the last 15 years.
What position do you play?
Center Midfield
Why did you start playing?
My parents wanted to get me involved in sports at a young age. I tried playing a lot of sports such as basketball, baseball, tennis and golf, but soccer was the only game I truly had a passion for.
How do you motivate yourself before a big game?
I look at my teammates and I tell myself that I will give everything I have to help the team succeed. I recall the feeling I had from winning a previous game and to get that feeling I get when we win is my motivation.
How did you decide on your major?
I was in London, England, with my dad and brother for a vacation. We were sitting in Hyde Park watching physical education classes from a park bench and my dad turned to me and said that he thought teaching physical education was something I should think about doing as a career. After thinking about it for a few days, I knew it was the career for me.
What other activities do you like to participate in?
I participate in a lot of exercise. I really enjoy running, lifting, and swimming as well as golf. I really enjoy going to amusement parks. Roller coasters are a big passion of mine. Going to the movies is something I really enjoy doing as well.
How do you balance school and sports?
I have a schedule with all of my class times and practice times and I look at the schedule at night before I go to sleep so I know how to balance my time the following day.
What kind of lessons have you learned through playing a sport?
I have learned the values of hard work. I have learned about how teamwork is essential to the success of the team. I have really learned about the importance of discipline. You not only have to take care of yourself for you, but also for the other members of the team who depend on you.
Where do you see yourself in five years?
I see myself as a high school health and physical education teacher, as well as a soccer coach. Also, I would hopefully like to be an athletic director within a high school.