Pacers' Basketball team seeks excellence off the court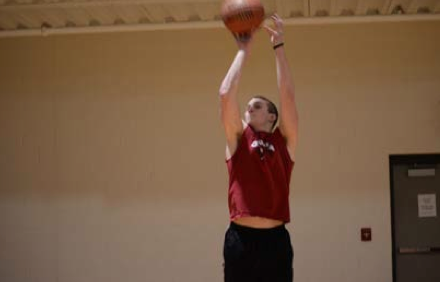 This upcoming season every player on the men's basketball team is required to attend a mandatory study hall session. These sessions are expected to help the team become more successful on and off the court.
During the 2012-2013 season the men's basketball team finished with a disappointing record of 6-19.The team understood that some changes were in store.
"Academic excellence off the court usually translates to excellence on the court," said the new head coach Bob Simmons. This is a tactic that he brought over from the Division I level.
"If a player gets their work done, this takes away a lot of stress. With less stress and getting more rest, this means they have their entire mind on the game plan during practice" explained Simmons.
Although there is no set schedule for the sessions each player has to attend a study hall session for six hours a week. This helps players get their work done quicker and this allows them to get more rest, calmed Simmons.
"I have never had a problem with the players attending these sessions. This is a mandatory requirement and if a player has a problem with it, then he doesn't belong in our program," Simmons said.
This is a system that the players are buying into. Tim Parker a junior, digital media major, a member of the men's basketball team explained why the study hall is vital for the team's success.
"The players feel that these study hall sessions may not be the most fun things, but they are definitely efficient. We feel that with these hours, we are obligated to study and complete our homework."
Simmons is hopeful that these sessions will pay off. "If the players give 100 percent every day and play to their full potential then that's all I can ask," Simmons said.