2020 MLB Power Rankings: 5. Tampa Bay Rays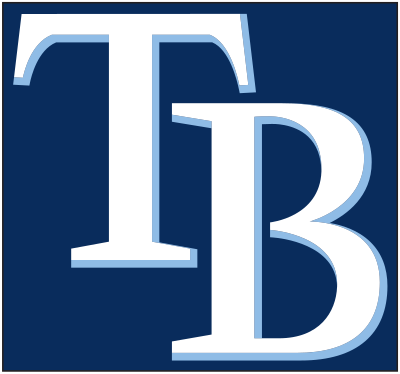 We've made it to the top five, and to one of the most exciting teams in baseball. Not only are they talented, but they've created a whole new way of playing the game. The Tampa Bay Rays come in at number five in my MLB Power Rankings.
The Rays didn't make a ton of moves in the offseason, but in their creative way, they did get better. The highlight move was the the acquisition of Japanese slugger Yoshi Tsutsugo. Tsutsugo signed a two year deal with the Rays and will team up with the newly acquired Hunter Renfroe to provide some big power to the middle of the order.
If you don't know much about baseball, you'd realize that the Rays don't really have any flashy names in their lineup, or on their team for that matter. The Rays have somewhat mimicked the moneybag approach the A's have made famous by putting guys on their team that work well together.
Lead by Austin Meadows, the Rays lineup is full of good hitters that contribute to their success. Power, contact, speed, top to bottom, this lineup has the potential to be a playoff contender. One guy to look out for isn't even a starter and its Jose Martinez, who the Rays acquired from the St. Louis Cardinals in the offseason. Martinez is a solid all around hitter and could be a valuable asset off the bench.
Let's move on to the strongest part of the team, pitching. The Rays don't follow a typical starting rotation. They invented the "opener" which is a concept the team developed during the 2018 season where the team starts a relief pitcher who would pitch for an inning or two and then bring in either a typical starter out of the bullpen or they could continue to "bullpen" which is also a concept that the Rays developed.
The Rays should hardly need to bullpen with he outstanding rotation options they have. At the top we start with 2018 AL Cy Young Award winner Blake Snell. Snell is coming off a down 2019 but with his arsenal, I expect a bounce back season from him. Crafty veteran Charlie Morton was great for the 2019 Rays and his curveball will likely carry him to another good season. The breakout star in this group could be Tyler Glasnow, who was outstanding for the Rays in 2019, but dealt with injury issues throughout the season. Glasnow seemingly needed a change in scenery after struggling with the Pirates. The 2018 season was a transition period for Glasnow but he really broke out last season. His stuff plays up in the zone and he can follow it with a devastating curveball to get his strikeouts. Expect Glasnow to continue his growth in 2020.
The Rays farm system is far and away the best in baseball, and Bleacher Report backs that up. They have developed players very well the last decade and they have signed and drafted well to go along with it. There are two guys I want to highlight.
We'll start with Brendan McKay, the two way star who reached the majors and had his struggles. It seemed like McKay wasn't quite ready for the big leagues, but he will be on the 60 man taxi squad and may very well even make the opening day roster with a good performance in the weeks leading up to the season. His stuff is electric and he will be at the top of the Rays rotation for years to come, but he likely needs a little more seasoning before reaching his potential. His bat is far behind his arm but the Rays will continue to try to develop it at the big league level.
Ok, I've dragged this out long enough. It's time to talk about Wander Franco, the consensus top prospect in all of baseball. In just two seasons in affiliated ball, the 19 year old has hit .336 with 20 home runs, and an OPS of .928. Franco is an all around talent with an 80 grade hit tool and 60 grade power tool. A solid runner and fielder, Franco will also be on the 60 man taxi squad, though he will likely not play for the Rays this season. In order for the Rays to get the most out of Franco, they should continue to let him develop. Now could he play in the majors tomorrow and be really good, most likely yes, but there is no reason to rush his immense talent at such a young age, especially since he hasn't played a game above High A ball. Expect a call up sometime in 2021 for this future superstar.
The Rays are one of the most intriguing teams in baseball. I love their postseason chances and believe they will make a run for the AL East title. Although I do believe they will fall short of that, they will surely be competitive in this shortened season.
Top Acquisition – Hunter Renfroe
Biggest loss – Tommy Pham
MVP – Austin Meadows
Projected Finish – 2nd in AL East (1st AL Wild Card team)
Projected Lineup:
Austin Meadows, LF
Yandy Diaz, 3B
Brandon Lowe, 2B
Hunter Renfroe, RF
Yoshi Tsutsugo, DH
Ji-Man Choi, 1B
Mike Zunino, C
Kevin Kiermaier, CF
Willy Adames, SS
Projected Rotation:
Blake Snell
Charlie Morton
Tyler Glasnow
Ryan Yarbrough
Yonny Chirinos
Contact the Writer: [email protected]
Twitter: @B_Murphy_MU
About the Contributor
Brendan Murphy, Assistant Sports Editor
Brendan is a senior Digital Media and Broadcast major and serves as a Staff Writer for the Wood Word. He has been on staff since Fall 2018. Brendan plays...