Diana D'Achille: Cross Country Competitor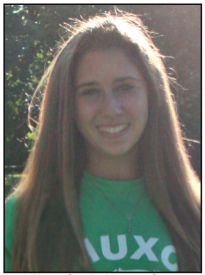 What year are you?
Sophomore
Where are you from?
I am from Denville, N.J.
What position do you play?
I am a two-sport athlete at Marywood. I run cross-country in the fall and play lacrosse in the spring.
Why did you start playing?
I love sports. I started running cross-country for my middle school. I did it to keep in shape for soccer. I use to play on a competitive soccer team for eight years. When I started high school, I had to pick one sport to play in the fall. Cross-country seemed to be a better decision at the time. My middle school coach was very impressed; I was beating most of the guys on my team. Cross-country was the right choice. Although I do miss soccer, I'm glad I chose cross-county. It keeps me in great shape for lacrosse and I had the opportunity to meet a lot of really great people in the sport.
How long have you been playing?
I have been running for a long time. I actually ran my first 5k race when I was 10 years old. With my family, I have run races for different charities. To date I have run more than 80 of these races. I never ran spring track because that is my lacrosse season. In high school, I did compete in indoor track, but it wasn't my favorite. I wasn't a big fan of running in circles around a small track. I prefer the different terrains of cross-country courses.
How did you decide on your major?
It was difficult at first because being involved in so many sports all my life made me always think that I would want to be a physical education teacher or athletic trainer. The major I am currently in is Graphic Design and I am doing a minor in Multimedia. I love it. I couldn't see myself doing any other major now.
What other activities do you like to participate in?
I like anything that's active. In the winter, I love going snowboarding and then in the summertime wakeboarding out on the lake. On the calmer side, give me movies to watch, friends to hangout with, popcorn and a pillow and I'll be happy.
How do you balance school and sports?
I've always been a very busy person. So being really busy at school now, I actually don't mind it. At times it does get hard because a majority of my classes are back-to-back up until practice, then I have late class most nights. But I've been good at managing the time to get my assignments done in time and play the two sports I love.
What kind of lessons have you learned through playing a sport?
The most important thing I have learned is that hard work pays off. To be the best that you can be, you have to work hard at it.
Where do you see yourself in five years?
In five years, I hope to have secured a graphic design job and possibly do some web page or logo designs on the side. And hopefully, I will still be running and playing lacrosse.