'Make, Believe' exhibition opens at Maslow Gallery
The Maslow Collection has a new exhibit on display entitled "Make, Believe." Co-curators Ryan Ward and Herb Shellenberger have created an exhibition which generates a dialogue between the work of artists in the Maslow Collection and artists working with moving image.
According to Ward, the exhibition centers around the use of film and video to create themes surrounding perception, representation and experiential reality.
Shellenberger, an independent curator, said that the construction of the exhibition began in early 2017 when he met Ward through a mutual friend. The two discovered that they had shared interests in terms of art. Ward then planned the exhibition.
"Ryan [Ward] told me about the gallery and devised a plan to combine my expertise with artist film and video with the work in the collection, as a way to bring moving image work in dialogue with works held in the Maslow Collection," said Shellenberger.
Over a period from April to October 2017, Ward and Shellenberger mutually decided the work that would be shown in the exhibition. Shellenberger also brought together some suggestions for artist film and video during this time.
"Finding these common threads led us to the curatorial concept of 'Make, Believe,' which was looking at works that construct their own realities," said Shellenberger.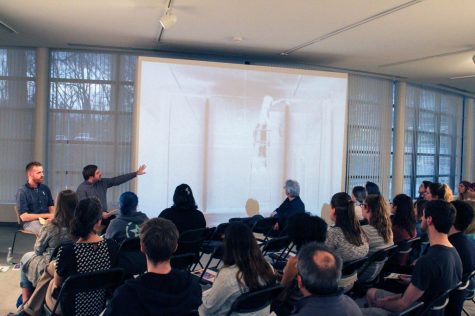 The two hosted a gallery talk on Feb. 21 where they were able to explain in greater details to visitors how the exhibition came together. The presentation included a discussion with an artist featured in the exhibition, Neil Zusman. A catalogue has also been produced to further explain the exhibit to visitors.
Shellenberger says that all the moving image artists featured have expressed positive comments on the curatorial theme.
"It seems as though the community is ready for creative ideas that are slightly 'off the beaten path,'" said Ward.
The exhibition will remain on display until March 21.
Contact the writer: [email protected]