Marywood Art Therapy students hold exhibition
Marywood University's Student Art Therapy Association (MUSATA) opened a gallery titled "Our Natural Call to Art Therapy" on Friday, Feb. 16. The exhibit is located in the Suraci Gallery in the Shields Center for Visual Arts.
"Our Natural Call to Art Therapy" showcases artwork created by 14 art therapy students from MUSATA.
Marguerite Fuller, the interim gallery director, said the exhibition showcases each artist's strengths.
"Students get to try all different mediums… When they're taking their work out to clients, they're teaching a whole range of ceramics, paintings, jewelry making, drawing. So you do get a wide range of work in the exhibit," said Fuller.
Graduate Assistant and Curator Kristie McNeill said the exhibit is a way to show the motivation behind art therapy.
"Art therapy allows an individual to process what he or she cannot through words alone and to express emotions and experiences that are sometimes hard to process," said McNeill.
Junior Art Therapy Major Sarah Pfeil said art was there for her during struggles in her life.
She explained the meaning and emotions behind her painting "Bleeding Beauty."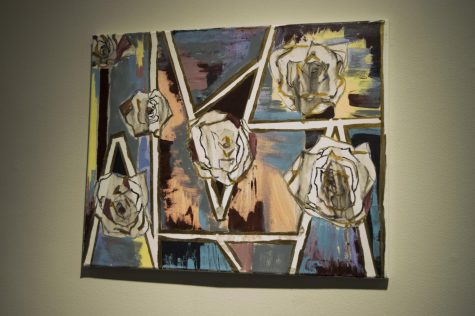 "The roses bring me back to high school and what I went through," said Pfeil.
Pfeil said she hopes to bring the same comfort to others through art.
The exhibition will run through March 21.
Contact the Writer: [email protected]