Group Spotlight: Delight Ministries and Agape Latte offer faith-based communities for students
Considering one of the core values at Marywood University is Catholic Identity, it comes as no surprise that there are some religious organizations on campus.
Delight Ministries and Agape Latte represent two different organizations on campus where students can have a faith-based experience in a setting outside of the traditional church atmosphere.
Delight Ministries started last year at Marywood and is a women's ministry organization nationwide. The leaders of Marywood's chapter are Senior Nutrition and Dietetics Major Sarah Pagnanelli, Senior Biology Major Gina Babcock, Junior Nutrition and Dietetics Major Annie Heyen and Senior Music Therapy Major Becca Renner.
"It's a place for women to come together on Sunday evenings to talk about faith, to talk about life, to talk about all of those problems and all those little mishaps that can happen in our life," said Paganelli. "But also to talk about all of the glorious moments, those highs and lows and how God comes into play with that."
Delight Ministries meets every Sunday at 8:30 p.m. in the Swartz Center for Spiritual Life and welcomes women from different faiths, regardless of how much they practice. Aside from weekly meetings, the group also holds bible studies, worship nights, community events and service events.
Bringing Delight Ministries to campus was important for Pagnanelli and the other women involved because there was no other faith-based community on campus that met weekly until it was introduced.
"I found it, and it found me. When I did find it, I knew that Marywood needed it," said Pagnanelli.
While Delight is a weekly organization for women only, Agape Latte is an all-inclusive organization that hosts an event every Sunday at 1 p.m. where people come together in a casual, relaxed, coffeehouse setting and listen to a speaker share their story about their experience with faith.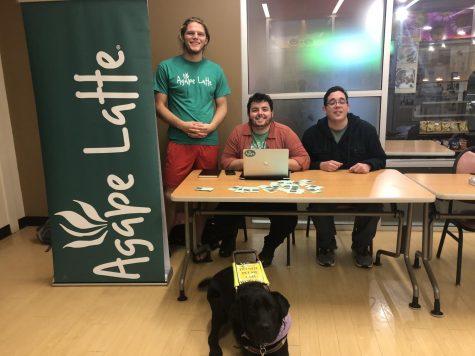 At these events, Student Leader of Agape Latte Junior Brien McChesney speaks about the relevance and the importance of these stories. This creates a space that allows these stories about faith and life to be told honestly and genuinely while also allowing attendees to listen to these stories and talk about them.
Agape Latte is another organization that made its debut on campus last year and operates out of Campus Ministry. The organization was originally founded by Boston College. The Agape Latte board is made up of six other students aside from McChesney, including Junior Michael Carone, Junior Zach McDonough, Sophomore Tommy Flynn, Junior Annie Heyen, Junior Paige Bell and Junior Heather Forbes.
McChesney encourages Marywood students to come not only for the free coffee and Krispy Kreme doughnuts, but also for the opportunity to relax and listen to someone's story.
"You can listen to someone else's story, sit back and ask questions if you want to or talk to your friends about it if you want to," said McChesney.
Agape Latte will be holding an event this Sunday, Oct. 6 at 1 p.m. in the Swartz Center for Spiritual Life in Room A. This month's guest speaker will be the Assistant Director of Housing and Residence Life Kevin Gaughenbaugh.
Contact the writer: [email protected]