Student Spotlight: Carrie Rose Frattali
Name: Carrie Rose Frattali
Graduation Year: 2013
Major: Architecture
Hometown: Scranton, Pa.
Q: Has the architecture program had any recent competitions for the students?
Yes, on the eastern side of Lake Scranton is a parking lot where visitors can access the jogging path via one of three trails maintained by the Pennsylvania American Water Company. This competition asked all 2nd, 3rd, and 4th year Architecture and Interior Architecture students to design a sheltered, sustainable, economical public toilet, changing room and information station that enhances the experience of visitors at the lake.
Q: What were the requirements for the project?
For Lake Scranton we had to create an information station that included a billboard, sign of the park rules, and a map box. Also, separate men's and women's facilities such as changing rooms with lockers, toilet with two stalls, urinals, sinks, and a baby changing station.
Q:How did you do in the competition?
I was selected as first place.
Q: What was the process you went through to create the draft for Lake Scranton?
After receiving the requirements and visiting the site, it took a few days to go through the design process with sketching and modeling. We only had a week to complete the entry and therefore had to get started immediately in order to produce a complete and thought through design. When I figured out how I wanted the structure to fit into the site and relate to its surroundings I began generating digital images and drawings to present to the board and eventually (after nights of no sleep) completed my competition board.
Q: Where did your inspiration/idea for the Lake Scranton building come from?
It was important to me that the building has the least amount of impact on the location as possible. In order to construct a sustainable structure, I designed a ventilation system through which cool fresh air flows through lattices in each room, cooling down the space in summer months. Warm air escapes through a second vent in the ceiling creating a constant flow of air through the bathrooms and changing rooms. I decided to also turn the roof into a water collection system by directing all grey water and rain water toward a cistern in the center of the structure that cleans and distributes the water to the fixtures of the building. All materials used in construction are locally found in the Pennsylvania area.
Q: When will this be built?
There are no plans for construction.
About the Contributor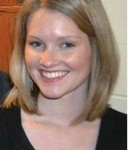 Molly Boylan, Editor-in-Chief
NAME: Molly Boylan
YEAR: 2013
MAJOR: English; Journalism (minor)

ABOUT: My first semester at Marywood I was unsure about what career I wanted to pursue...