Student Spotlight: Tiffany Brzenk
Manfid Duran and Jessica Bonacci
Name: Tiffany Brzenk
Year: Senior
Major: Art Therapy
Hometown: Gettysburg
At only 21 years old, Tiffany Brzenk already cultivated an impressive art portfolio; after all, not many college seniors can say that they are the first art therapy student at their university to hold their own art show.
The track and field athlete and active Zeta Phi Delta member created pieces of original embroidery based on tattoos as well as original collages. People can view Brzenk's exhibit titled Nähen Nett on the second level of the Shields Center for Visual Arts until Sept. 29.
The term Nähen Nett is German for "my grandma's sewing business so nice." Brzenk's grandmother owned her own sewing business and taught her granddaughter the art of embroidery.
"She taught me when I was nine years old and even after a year of being into sewing, when I entered in exhibits, they would put me in the adult category," said Brzenk. "She taught me well and I just ran with it."
In total, Brzenk created 60 embroideries of people's tattoos that are displayed. Originally, Brzenk only had 20 embroideries for an art class she took in the Spring 2017 semester. At the urging of her professors Stephanie Wise, clinical assistant professor of art and director of art therapy and Steven Alexander, professor of visual art, Brzenk expanded her collection.
"[Wise and Alexander] were critiquing my work and they just seemed to really like everything I had brought and they were like, 'I think it would be a good idea if you had a show,'" said Brzenk. "We started thinking about it and this is what happened."
Brzenk's embroidery inspiration does not come from random tattoos she stumbled upon. She posted a status on Facebook during the Spring semester asking if anyone would be interested in allowing her to use their tattoos for her art. Brzenk expected roughly 20 responses. She got 200.
"I decided to do tattoos because it's like telling a story," said Brzenk. "Everyone has their story and they mark it on their bodies in a certain way, so I thought by having everyone's different stories together in one collection it would be a great representation of the village that raised me: my friends and family."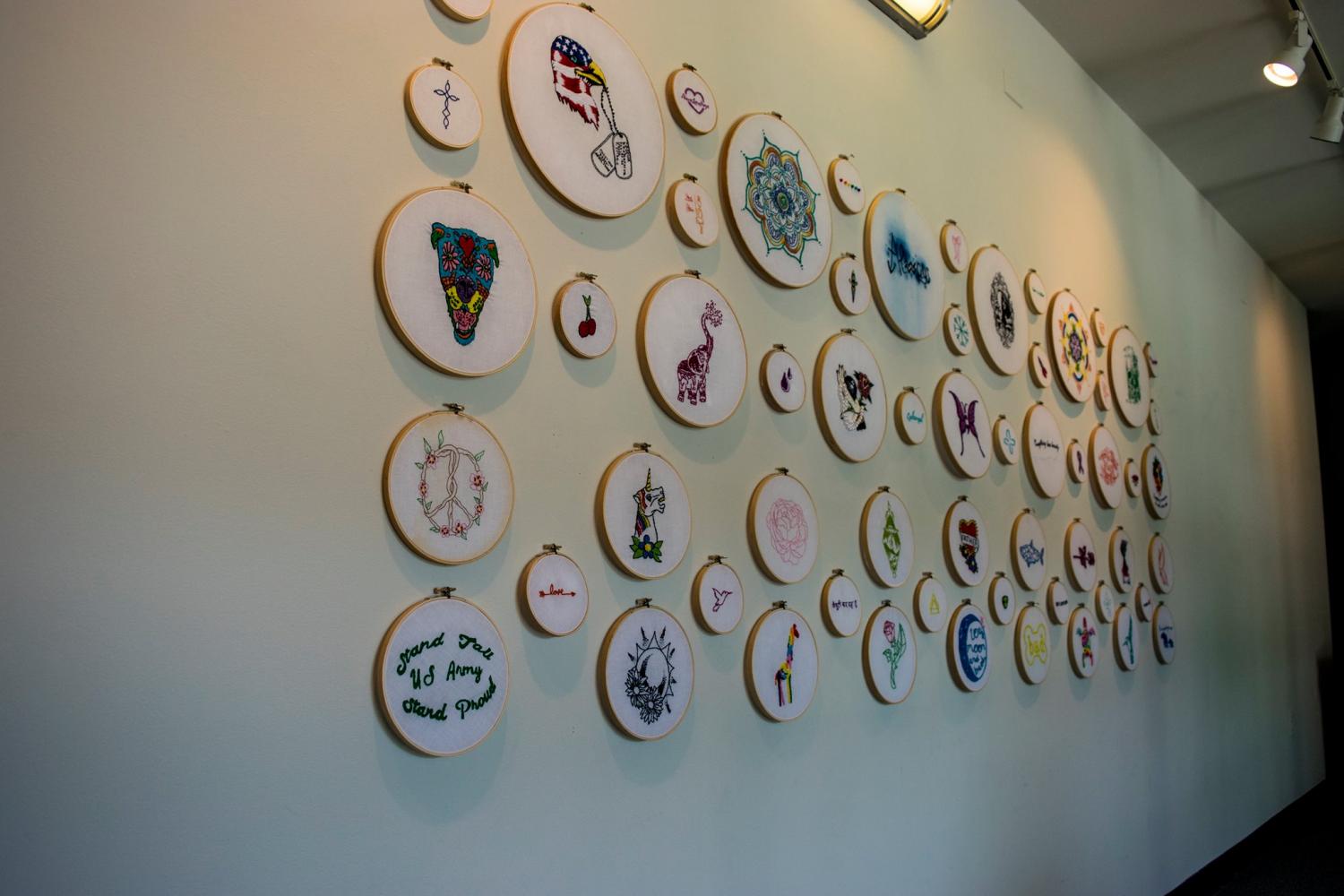 With her embroideries, Brzenk certainly puts the "work" in "artwork." The smaller embroideries take her "anywhere from 15 minutes to two hours to complete" and the larger ones can take up to 24 hours to create.
"I like the detail of work in it," said Brzenk. "It's not quick which most people don't have the patience to sit and do this. I kind of like being different, so I enjoy it."
In addition to the embroideries, Brzenk created paper collages based on vintage post cards that are also a part of the exhibit and took about an hour each to create. Aside from the time taken to create her art, setting up the exhibit took a fair amount of time as well: four hours to hang the embroideries and two hours to position the collages.
Though the collages take up less room, they are no less impressive than the embroideries. Juxtaposed past and present, visual elements of Brzenk's creations mimic the original postcards she drew inspiration from.
"The collages are based off of vintage post cards we did," said Brzenk. "They were for a class. They were supposed to be mood boards of how you feel, and I kind of just went with it. I like to be inspired by other work- it's a big part of what I do, taking things from the past and making them new again."
Though embroidery is Brzenk's favorite medium to use, she recognizes the importance of experimenting with other media.
"Personally, I'm awful at certain mediums, like clay- I cannot do it. Fiber work, I seem to excel in that," said Brzenk. "It's important to be well-rounded, but it's important to have one [medium] that you like more than others that you can definitely get into more."
With art therapy, Brzenk has the opportunity to explore various media and techniques that she will implement once she is a practicing art therapist.
"[Art therapy is] basically using a different medium to convey what you're feeling rather than talk therapy, so sometimes its easier to express yourself through art than words," said Brzenk. "When I found art therapy was a thing, I thought it was cool how you could help people emotionally and through art."
When she doesn't have art shows at Marywood, Brzenk likes to share her artwork via social media.
"Social media's important because it gets your name out there, it gets people excited and it makes them want to view your work, interact with your work," said Brzenk. "That's kind of the reason I took people's tattoos to bring them all into one thing, to get them into art that maybe they wouldn't have been interested in before; so, that's kind of like the same thing with social media, getting my friends interested."
Her two Instagram art accounts, @nahannet and @blackoutfeels, feature her original artwork. The former features her embroidery while the latter combines her art and writing.
"There's @blackoutfeels which is my poetry account, and that's where I do blackout poetry," said Brzenk.
Blackout poetry is a combination of writing and art. A person takes a page from a book, selects a few words that they want readers to be able to see and obscures the other words with markers, paint, pen, etc. The remaining words create a free form poem. Sometimes, the creator decorates the page with drawings that are relevant to the words on the page.
For anyone thinking about creating art, Brzenk suggests looking up different artists and art styles.
"I'd definitely say a lot of research and looking at people's artwork, famous artists, local artists, your friends- really just studying it," said Brzenk, whose own research led her to artist Anna Barbosa. "This was actually supposed to be on one tapestry because I was looking at a fiber artist Anna Barbosa and she depicts an image of a person sewing themself [sic] up… I'm inspired by her so that's what got me back into [embroidery]."
As for her wish of what people will take away after visiting her exhibit, Brzenk is modest, saying, "I just hope they get inspired to keep creating."
Contact the writer: [email protected]