March for Our Lives Scranton rally draws a crowd
As students and activists across the country gathered to march for an end to gun violence in schools, the March for Our Lives movement found its way to Scranton.
According to WNEP, over one thousand people participated in the march, which took place on Saturday, March 24.
An official March for Our Lives event was held at 11 a.m. in Scranton, beginning at the Olive Street Pavilion on West Olive Street where participants gathered to prepare signs and register for the event.
Tables under the pavilion included options for voter registration, information regarding the NEPA Youth Shelter and representatives from Action Together NEPA, a local "grassroots activist organization," according to their website.
The event began with a performance from the Scranton Knights Step Team, which was followed by a series of speeches and musical performances by students from local schools including Scranton High School and Dunmore High School.
In one speech, Scranton High School Student Taahirah Muhammad detailed how gun violence has affected her personally, as her brother was shot.
"Society has shown us there are reasons to be afraid," Muhammad said in her speech. "What other tragedies need to happen before politicians realize there's an epidemic on our hands and things need to change?"
Attendees held signs in the air during speeches and performances. One sign posed the question: "If you own a gun & have children, which would you prefer losing?"
Congressman Matthew Cartwright met with participants at the event and discussed his thoughts on current gun laws in the United States.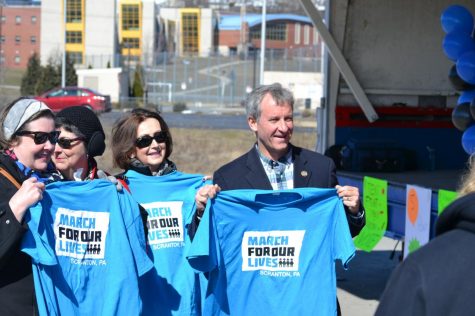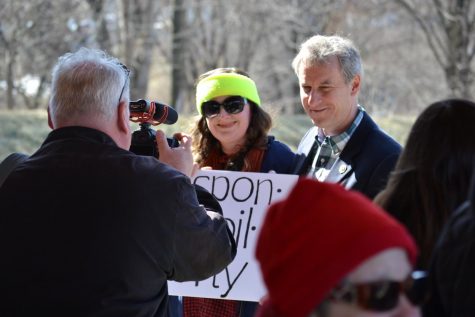 "It's no secret that I have been an advocate for sensible, modest gun safety legislation," Cartwright said. "It's been particularly frustrating for me being in the minority in the House of Representatives my entire time as a Congressman that Speaker Boehner and Speaker Ryan have refused to bring up even the most mild gun safety legislation."
Along with students, adults were in attendance to show their support for the cause.
"I can't believe that kids have to deal with fears everywhere they go," said Lake Winola resident Gail Houser. "Coming from my generation, I can't imagine having to do shooter drills in schools," she said.
The crowd began marching down West Olive Street around 12:45 p.m., led by a group of local students. The students led chants of "enough is enough," and "we want change."
The march arrived at the Lackawanna County Courthouse at approximately 1 p.m., where a separate presentation from the March for Our Lives event was held.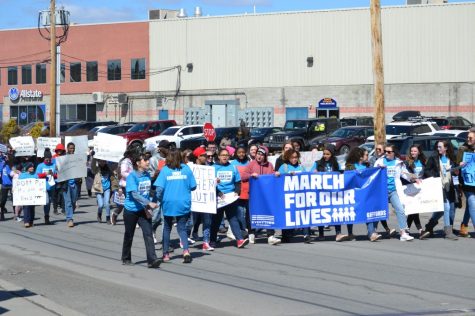 In the courthouse lawn, Kristin Magnotta, regional director of Northeastern Pennsylvania at the office of U.S. Senator Bob Casey, spoke to the crowd.
"There is nothing political about common sense gun reform," Magnotta said to applause. "Senator Casey won't stop fighting until we see the change we need to see to our gun laws," she added.
Honesdale High School Sophomore Jenna Mohn said that participating in the march was more liberating than she expected.
Mohn said about 20 students from her school participated in a walkout on March 14, but school administrators did a lot to prevent students from participating, even assigning suspensions as punishment.
"Since I'm not old enough to vote, I want to do as much as I can to make sure my voice is heard," said Mohn.
Watch the full march here.
Contact the writers: [email protected], [email protected]
Twitter: @WeidnerTWW @AKnittelTWW