Marywood celebrates 100th commencement ceremony
Students receiving their diplomas took part in a historic commencement ceremony on May 19 at the Mohegan Sun Arena at Casey Plaza.
The annual ceremony reached its 100th year at Marywood this past weekend.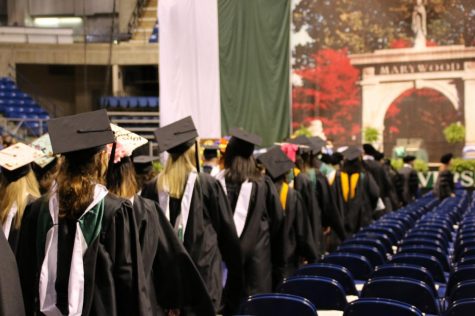 Speakers at the ceremony reflected on Marywood's first graduates, a group of 17 women who received their baccalaureate degrees on June 22, 1919.
In her remarks to students, Marywood President Sr. Mary Persico, IHM, Ed.D talked about the values that tie the new Marywood graduates to the first class.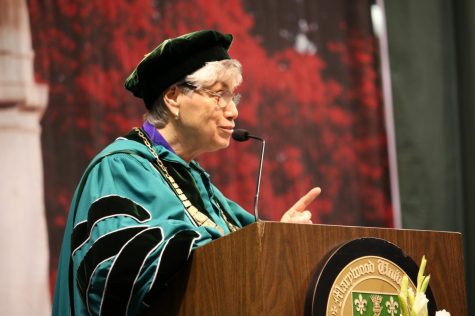 "Your quality education… connects you 900 grads… to those 17 young women who graduated a century ago," Persico said in her address.
In an interview with TV-Marywood and The Wood Word, Persico shared her excitement for the 100th graduating class, but said what she finds even more exciting is watching the students graduate.
"I think one of the best moments of my life, of my year… is shaking the hands of all graduates who come and receive their diplomas because they say such wonderful things… [and] they talk about how happy they are," Persico said.
Commencement speaker and honorary degree recipient Rev. Msgr. Joseph G. Quinn, J.D., J.C.L, talked about Marywood's first class and also said the Diocese of Scranton is celebrating 150 years since being founded.
In his speech, Quinn focused on the theme of time, telling graduates that "to live is to change, and there's no stopping that clock."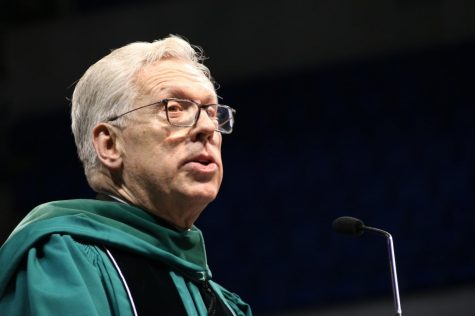 Quinn said in his address that "the challenge [for graduates]… is to use [their] time wisely."
He emphasized his point by having a portion of "Seasons of Love" from the Broadway musical "Rent" played throughout the arena. The commencement program book included lyrics to the song and Quinn encouraged students to sing along.
Quinn spoke to TV-Marywood and The Wood Word after the ceremony and said he hopes the graduates "use time wisely."
"I sometimes think that when you are a student, you don't realize how fast time goes by," Quinn said. "But, as the years go on, when you get to graduation you think, 'Four years? How did I get to this? 2018 seems so far off and here it is.'"
Jenny Nguyen contributed to this article.
Contact the writer: [email protected]
Twitter: @JBonacciTWW