NEWS BRIEF: Master of social work student receives fellowship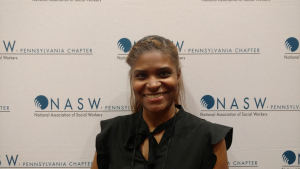 Kandia Palmer, a master of social work student, is the 2018-2019 recipient of the Council on Social Work Education (CSWE) Minority Fellowship Program (MFP).
According to the CSWE website, "The purpose of this program is to reduce health disparities and improve behavioral health-care outcomes for racially and ethnically diverse populations by increasing the number of culturally competent master's-level behavioral health professionals available to serve racial and ethnic minority populations."
In order to be considered for the fellowship, applicants must focus on providing mental health and/or substance use disorder service to racial and ethnic minority populations.
Palmer is a student in Marywood University's Pocono master of social work program and is in a field placement at a private practice in East Stroudsburg, Pennsylvania.
Palmer hopes to become a licensed clinical social worker and eventually have her own practice.
Contact the writer: [email protected]
Twitter: @BrianaRyanTWW