Annual Security Report shows drop in liquor law offenses
The 2018 Annual Security Report, released to the campus community on Oct. 15, looks a lot like the 2017 report, except in one area.
Chief of Campus Safety Michael Pasqualicchio said the most noteworthy part of this year's report was the drop in liquor law violations. Arrests on campus due to these violations decreased from six arrests in 2017 to only one arrest in 2018. Disciplinary referrals for violations on campus also decreased from 122 referrals in 2017 to 53 referrals in 2018.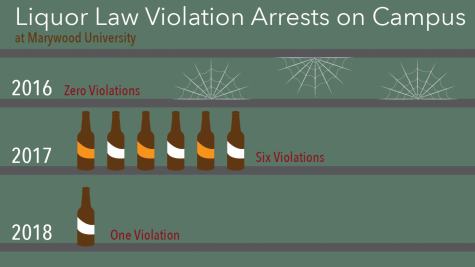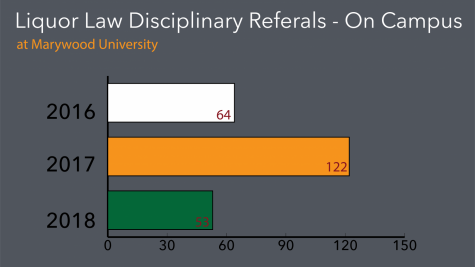 "I think that gives a lot of credit to Housing and Residence Life, Resident Assistants and Directors and the Dean of Students because they continually put on programs for students encouraging them to make good decisions," said Pasqualicchio. "I think if we keep students busy through activities, they won't have time to make poor decisions."
Dean of Students Ross Novak said he agreed the drop-in numbers is most likely a result of increased activities; however, he said there is a possibly that the liquor law violations are happening and not being caught.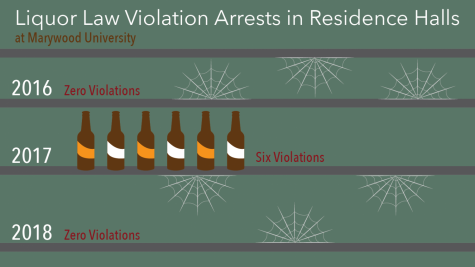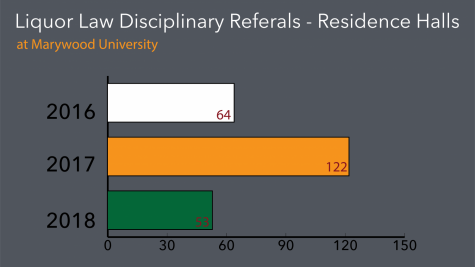 "Marywood is a dry campus in terms of the Residence Halls and that's a known fact coming in," said Novak. "So, my hope would be that they're not being sneaky, [but] that they're being smart."
Novak said he does not believe there are any concerning numbers in this year's report; however, he said he believes this could be due to an increased national trend of underreported sexual assaults, domestic violence incidents and dating violence incidents across colleges.
"I tend to think there are some things that tend to get under reported," said Novak. "Meaning that we know they happen, but students don't bring them to us."
This year's report showed no reported offenses pertaining to sexual assault and domestic violence on campus. Dating violence reports increased from one incident to three incidents.
Novak said he hopes increased training and events focused on sexual assault and dating violence will help empower students to come forward to talk about these issues.
Although the 2018 report was just released, Pasqualicchio said he is already preparing for the 2019 report.
"I haven't seen anything super concerning [so far in 2019]," said Pasqualicchio. "The numbers for Marywood are about average for universities our size."
The Annual Security Report is in compliance with the Jeanne Clery Act, which mandates that all university publicly release safety policies and statistics relating to crime.
Contact the writer: [email protected]
Twitter: @BrianaRyanTWW