PACER SPORTS REPORT: Women's tennis clinches #2 seed, Noah Beck gets first win as head coach
Several Marywood sports teams hosted games, matches, and meets last week. Let's take a look back and see how each team did protecting its home turf.
Tuesday, Oct. 11
Men's Soccer:
Marywood 1 Centenary University 1
The Marywood men's soccer team battled to a draw with number one ranked Centenary University.
According to marywoodpacers.com, the Cyclones came into the game in first place in the CSAC before the Pacers played temporary spoiler.
Junior defender Nick Dyer sent the ball in from 35 yards deep to senior forward Marc-Daniel Montinard. Montinard headed it into the back of the net to put Marywood up 1-0 at the 17-minute mark.
The second period saw the Cyclones get more aggressive on the offensive end with 14 shots on goal. One of those shots found the net as Centenary's Luis Marin evened the game in the 62nd minute.
Centenary stuffed the stat sheet by doubling the Pacers in shots on goal 24-12 in addition to a 13-2 advantage in corner kicks, but Marywood held onto the tie.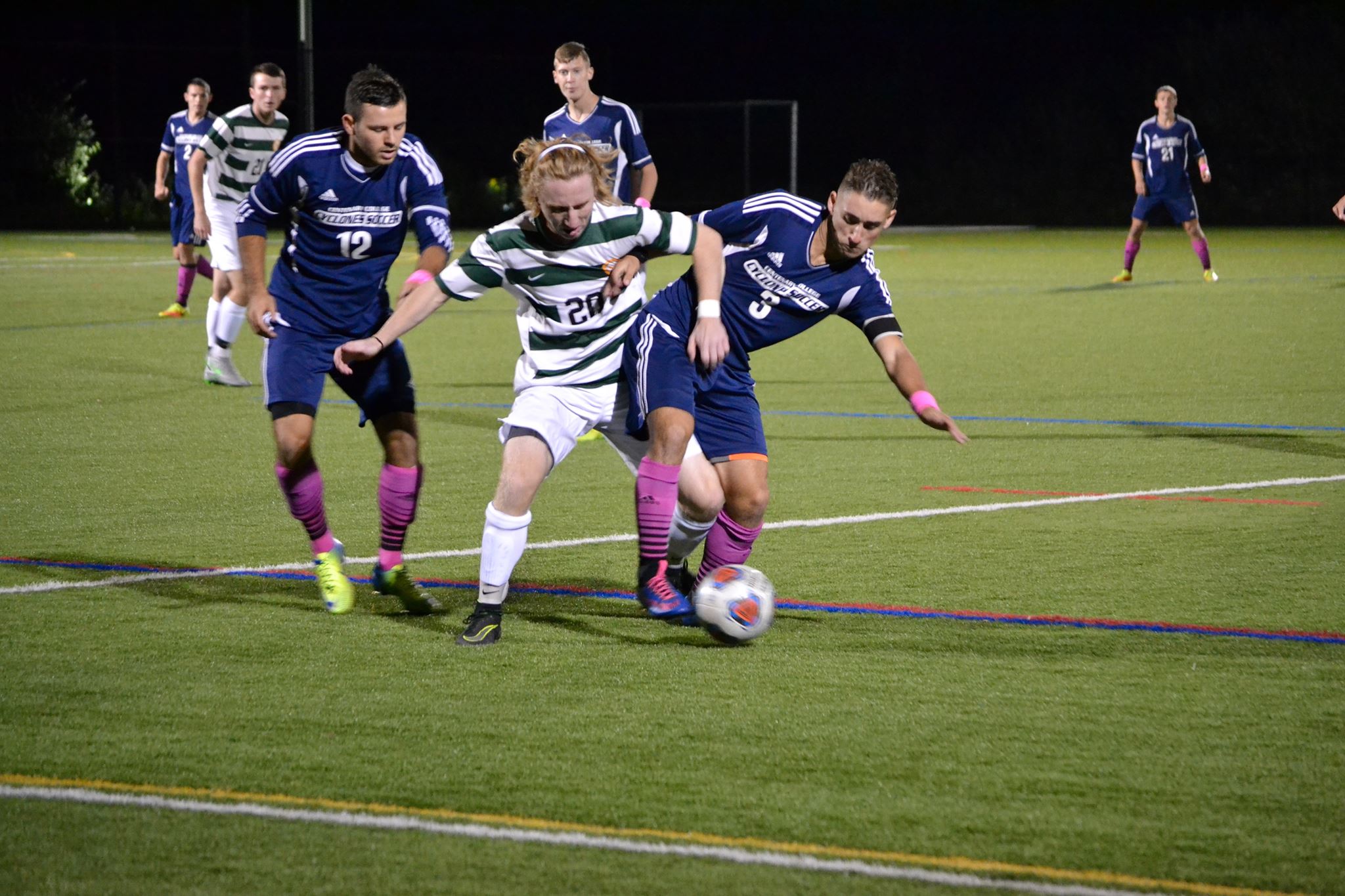 Photo credit/ Courtney Snyder
Wednesday, Oct. 12
Volleyball Tri-Match
Neumann University 3 Marywood 1
In the first of two matches at the Dig Pink tri-match, the Pacers fell to Neumann University in four sets, 23-25, 25-21, 25-21 and 25-17.
Marywood won the first set with a .194 attack percentage while Neumann posted an abysmal .081. However, the Knights fired back and swept the next three sets.
Neumann's attack percentage improved in each set going from .200 in the second set to a match-high .294 in the last set.
Highlighting the Pacers efforts were sophomore Mallorie Deschaine's double-double with 19 kills and 12 digs, junior Danielle DeIulio's 40 assists and freshman Jordan Vossler's 22 digs.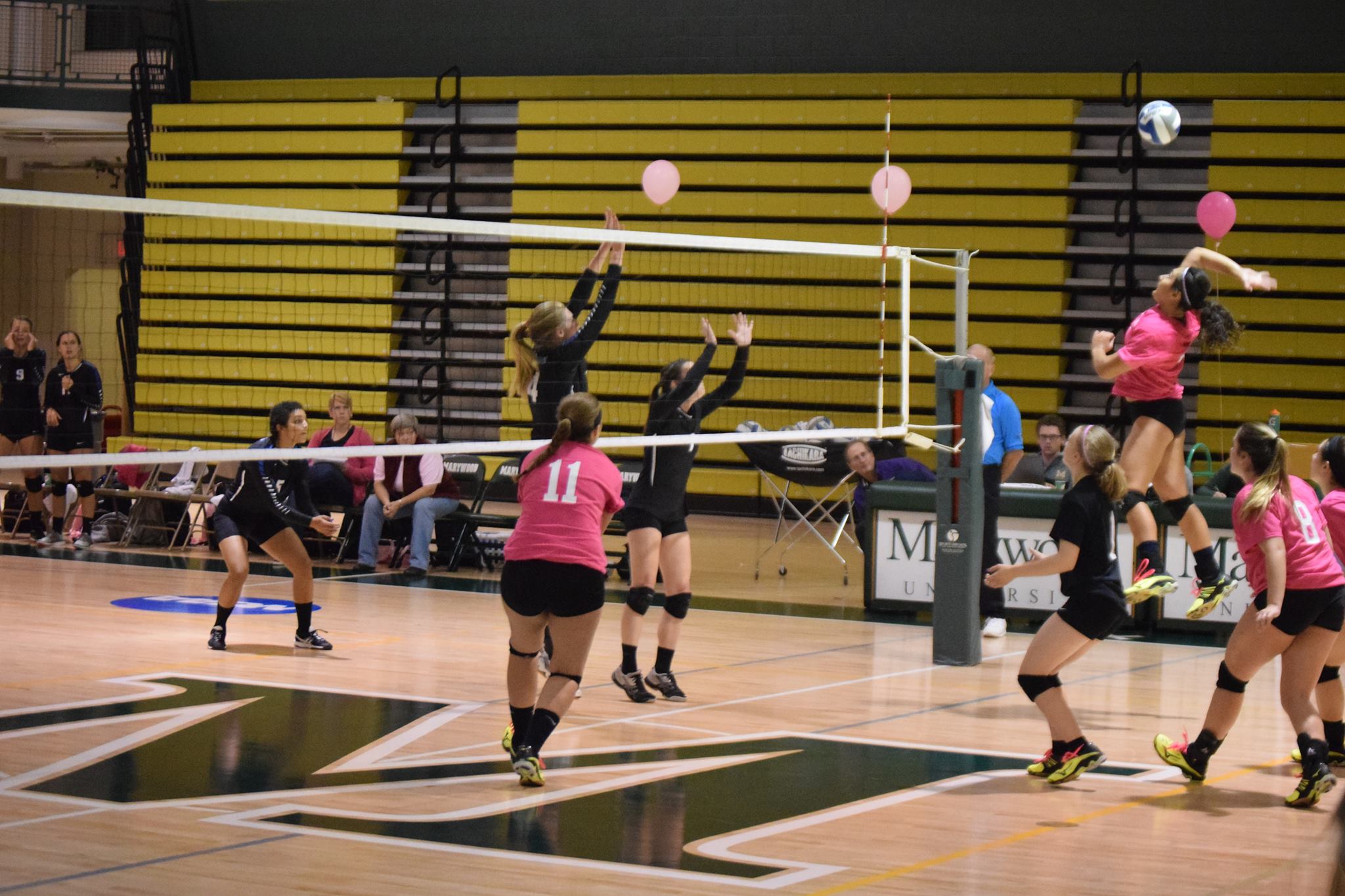 Photo credit/ Bethany Wade
Marywood 3 Clarks Summit University 0
In the final match of the night, the Pacers quickly rebounded from their earlier loss to take care of Clarks Summit University in straight sets, 25-13, 25-12 and 25-9.
Marywood shut down the Defenders by holding them to a negative attack percentage in the final two sets. Clarks Summit could not seem to find a rhythm, committing 17 errors to only 16 kills on the night.
Deschaine led the squad with 12 kills on 22 attempts. Her attack percentage of .545 stands seventh in program history.
Sophomore Shannon Hupert made some history herself with eight aces, which ties her for fourth all-time in most service aces in a single match in program history.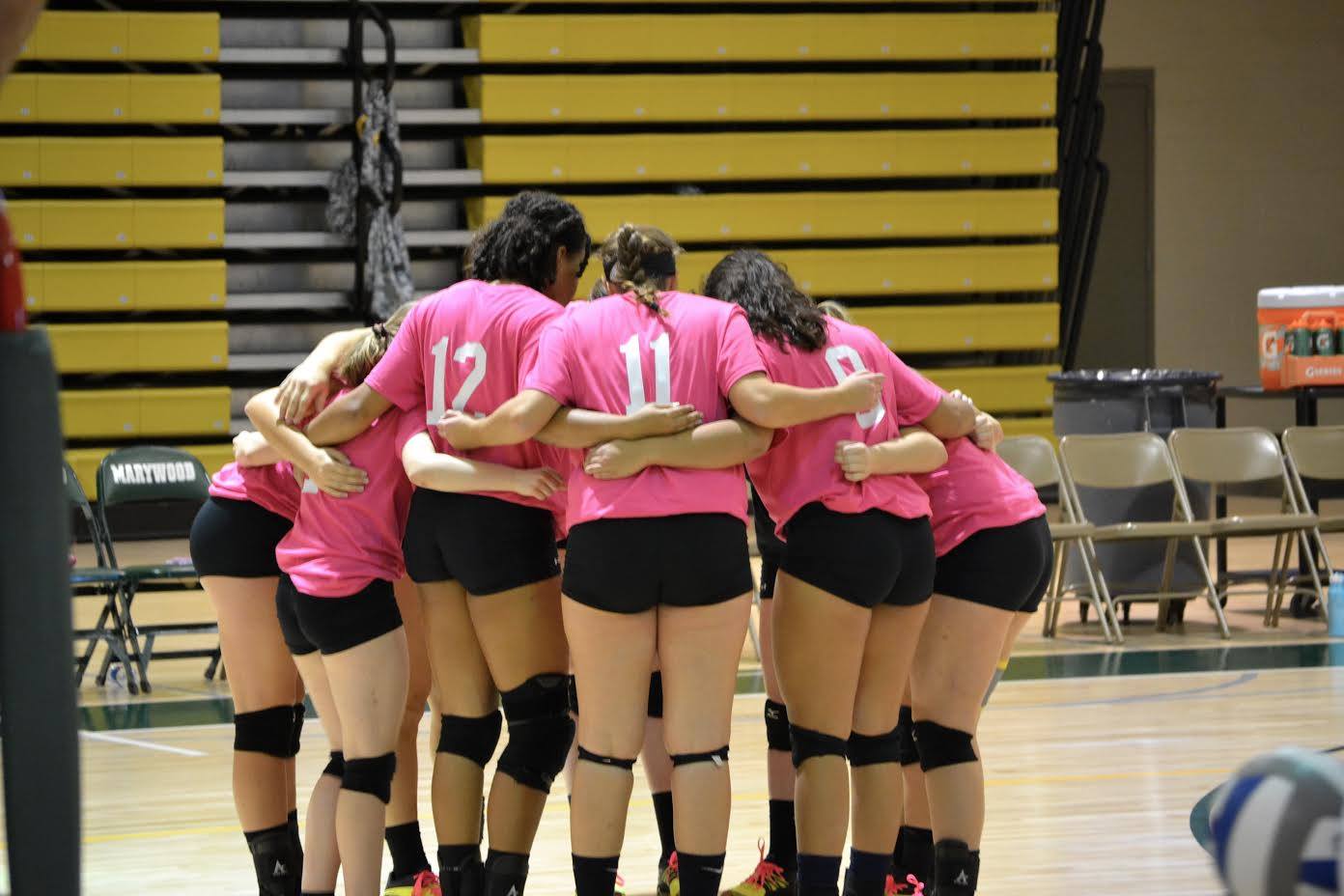 Photo credit/ Courtney Snyder
Friday, Oct. 14
Women's Tennis:
Marywood 9 Clarks Summit University 0
The Marywood women's tennis team locked up the #2 seed in the CSAC with a victory over Clarks Summit University.
The dominant performance improves the Pacers record to 11-2 (8-1, CSAC).
The winning started quickly for the Pacers as CSU had to default matches at three doubles and five and six singles.
Doubles teammates junior Leah Dinsmore and senior Melanie Kobela won 8-0 to make the lead 4-0, followed by a 8-1 win from senior Avery McCall and freshman Danielle Ogonowski to extend the lead to 5-0.
In singles, Ogonowski, McCall, Kobela, and sophomore Abygail Doud all recorded victories, giving the Pacers the shutout win.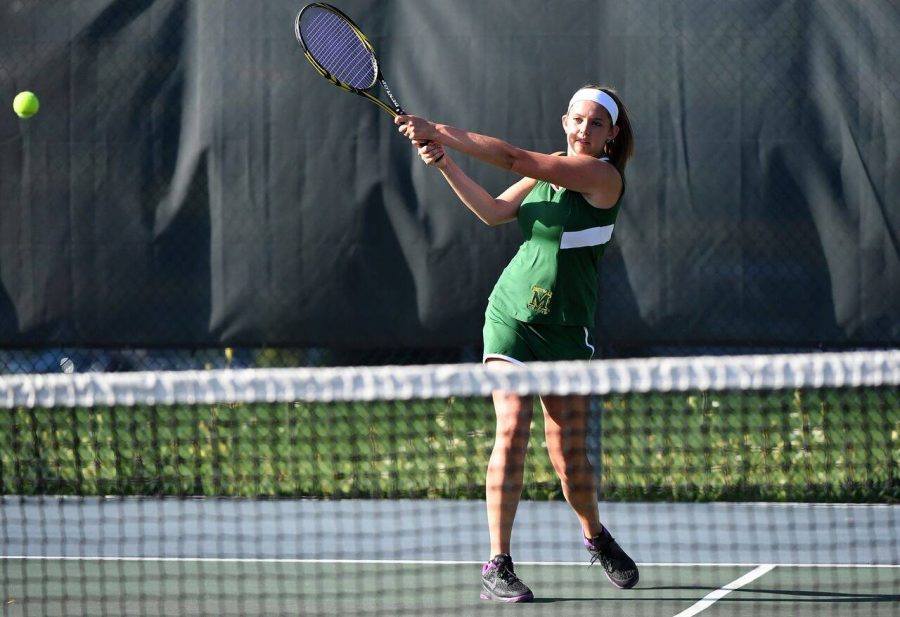 Sunday, Oct. 16
Swimming & Diving:
Marywood men 125 Cazenovia 34; Marywood women 144 Cazenovia 82
First-year head coach Noah Beck got his first win as the Marywood swimming and diving team swept Cazenovia College.
The Pacers got off to a hot start as sophomores Julia Randolph and Seychelle Duckworth teamed up with freshmen Chloe Wiggins and Siena Senn to win the 200-yard medley relay.
Marywood continued to dominate as sophomores Zach Costello and Mary Cate Coyle each won the 1000-yard freestyle event.
The Pacers diving squad continued to roll against the Wildcats as junior Courtney Snyder and sophomore Justin Stonier won the one-meter dive.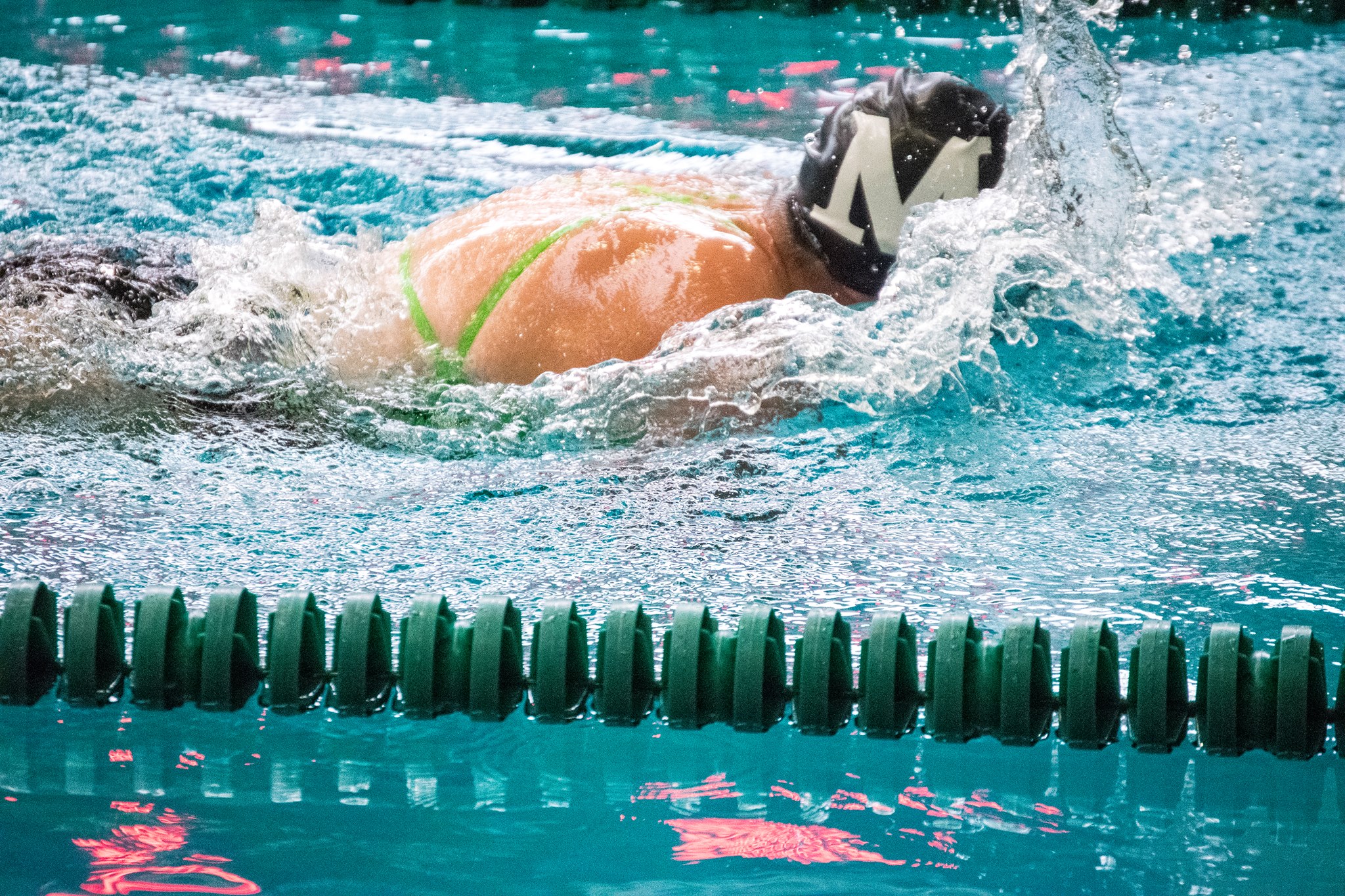 Photo credit/ Bethany Wade
Check out The Wood Word next Monday and every Monday for a recap in Pacer sports.
Contact the writers: [email protected], [email protected]
Twitter: @JohnFerraro21