Who's Who on Campus: Meet Director of Athletics and Recreation Patrick Murphy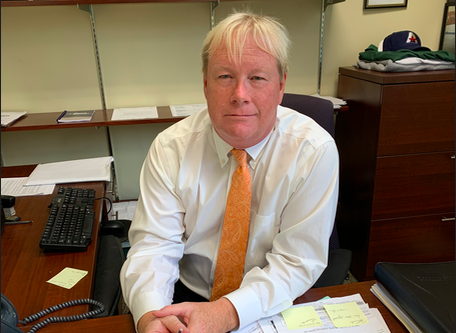 After 28 years, Marywood University has a new Director of Athletics and Recreation.
Patrick Murphy might be new to Marywood but he's no stranger to the athletic arena. As a child growing up in Ontario, New York, he dreamed of being a firefighter and developed a love of baseball. Murphy would eventually play soccer and basketball at the varsity level.
After his high school career ended, Murphy attended Marshall University in Huntingdon, West Virginia on a soccer scholarship. While attending Marshall, he earned a Bachelors of Arts in Sports Marketing and Management along with a Master of Science in Athletic Administration.
His career then took him to hold administrative positions at DePaul University, Iona College, the University of Maryland Eastern Shore and most recently Fairfield University. While serving as Fairfield's Senior Associate Athletic Director, he came across the Director of Athletics and Recreation position at Marywood through an advertisement sent out by the university.
The responsibilities of an Athletic Director extend past meetings with coaches and athletes. The job also requires obligations such as budgeting, marketing and approving/partaking in fundraisers. Murphy said he most looks forward to getting to know the athletes and the coaches here at Marywood.
"I have an open door policy so anyone can stop in at anytime," said Murphy.
Murphy said he has a short term goal of getting security jackets for campus police at the games and matches along with his long term goal of improving all athletic fields and facilities on campus.
Sports have always been a major part of Murphy's life, but he said now his favorite activity is spending as much time as he can with his eight year old son and 16 year old daughter.
Contact the writer: [email protected]