Upcoming Jazz Festival to feature music by Benny Carter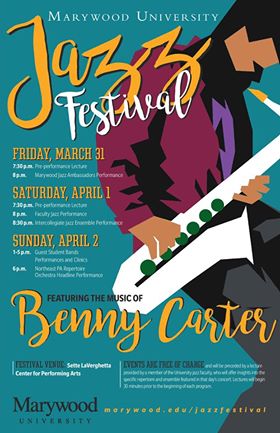 The Marywood University Jazz Ensemble is hosting the annual Spring Jazz Festival to bring musicians together and celebrate the musical stylings of Benny Carter. The event will also feature the first ever Intercollegiate Jazz Ensemble performance in Pennsylvania.
The festival will be held at the Marywood Sette La Verghetta Center for Performing Arts from March 31 to April 2. Performances on March 31 and April 1 begin at 7:30 p.m. and performances on April 2 begin at 1:00 p.m. All events are free of charge and admission is open to the public.
Over 80 musicians will take the stage over the weekend, including students and faculty from Marywood and surrounding schools. Musical festivities will kick off Friday with a performance by a student band, The Jazz Ambassadors. On Saturday, there will be a Faculty Jazz Performance, followed by a performance by the Intercollegiate Jazz Ensemble.
Students taking part in the Intercollegiate Jazz Ensemble will be performing alongside students from partnering universities in the surrounding area. According to David Jumper, assistant professor of Jazz Studies, faculty performer and organizer of the upcoming festival, the performance will be very exciting.
"We've invited students from partnering universities to combine into a super-band, rehearsing for two days and performing Saturday night," said Jumper. "This is the first time an intercollegiate jazz event has happened in Pennsylvania."
On Sunday, guest student bands will take the stage from 1:00 p.m. to 5:00 p.m. At 6:00 p.m., the Northeast PA Repertoire Orchestra will be the headline performance with "The Martin Luther King Suite," a composition by the Festival's featured artist, Benny Carter.
Benny Carter was a Jazz musician and composer who lived from 1907 to 2003. He composed the piece, "The Martin Luther King Suite," after the death of Martin Luther King in 1968.
"This year, it's great to provide educational opportunities for not only our students, but other high school and collegiate students," said Jumper. "Our music department is prideful in our efforts to be the trendsetter for education and outreach events of this kind."
For more information on the upcoming Jazz Festival featuring music by Benny Carter, go to Marywood.edu.
Contact the writer: [email protected]