Our Opinion: We feel betrayed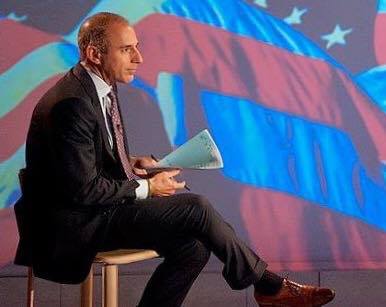 It's been about two months since the Harvey Weinstein sexual harassment story broke. Since then, a laundry list of Hollywood stars, politicians, journalists and media professionals have admitted to or been accused of sexual assault and harassment.
Recently, "Today Show" host Matt Lauer took his place on the list. NBC fired Lauer after a few women accused him of sexual misconduct.
Lauer isn't the only high-profile journalist on the list. Investigative journalist Geraldo Rivera, TV host Charlie Rose and The New York Times White House reporter Glenn Thrush are just a few of the other journalists accused of unwanted or inappropriate sexual behavior. And though not on The Times' list, former Fox News anchor Bill O'Reilly and CEO Roger Ailes have also been accused of sexual misconduct.
The Wood Word Editorial Board is made up of student journalists who aspire to be professional journalists. To see powerful men in our field abuse their status hits too close to home. These aren't actors whose movies we like; these are our future colleagues and employers.
To know that professional journalists are guilty of acting in this way is terrifying for student journalists. There may very well be more men and women in the industry guilty of these acts.
The issue goes further, however. As student journalists, we are taught the ethics and expectations of our profession. We are told to act with accountability and take responsibility for our actions. We pursue the truth and should be honest ourselves.
The men listed above did not all act with accountability. Lauer apologized, but has said some accusations are untrue. He was seeking a settlement from NBC, which he won't get. Rivera has not made any response to the allegations against him, specifically about an incident that allegedly occurred in the 1970s. Thrush has disputed some of the accusations against him. O'Reilly didn't take responsibility and instead acted like he was the victim.
We feel let down by the men who make up the upper echelon of our profession. If student journalists should hold themselves accountable, why shouldn't professionals? In line with a journalistic commitment to the truth, every claim of harassment and abuse should be investigated by the organizations that employ these individuals and swift action should be taken if the claims come out to be true. Guilty parties shouldn't be asking for their own settlements and continuing to work in the field.
Ultimately, there's a positive side to this. If men continue to be ousted for bad behavior, hopefully more journalists and media elites will lose their jobs for these acts like the men in Hollywood. If the professional journalism industry is purged of the worst of the worst, it will be a safer place to be. The hope for us as aspiring journalists is that we enter into careers where we won't be victimized or targeted. No one in any industry should face that, and this reckoning of public figures in all industries needs to be the catalyst for the downfall of all sexual abusers.
We want to see our industry change for the better. It's scary to think about entering into a professional world where people behave and treat others this way. Not only do we want to see these abusers brought to justice, but we also hope that we can be the new generation of professional journalists, creators and visual artists who treat their colleagues with respect and understand the boundaries of personal space and consent. We are part of the current generation of young adults entering the professional world, and we have the responsibility on our shoulders to change the status quo.
Have an Opinion? Send a Letter to the Editor!
The Wood Word reserves the right to edit letters for length and grammar. Please include your name, title, and a phone number where you can be reached.
Send to: [email protected]