'Cut it out!' No, we're not kidding, Dave Coulier came to Marywood University
On May 5, Student Activities Crew (SAC) held a Spring Fling full of nostalgic '90s fun.
The Fireplace Lounge was set up for a '90s extravaganza featuring free food and prizes, all wrapped up in the '90s theme. The night was capped off with a comedy routine from actor and comedian Dave Coulier.
Coulier took the stage and played to a room of about 200 students. His routine touched on traveling, fatherhood, sports and ended with some wise words and harmonica music. Students posed for photos with Coulier after the performance.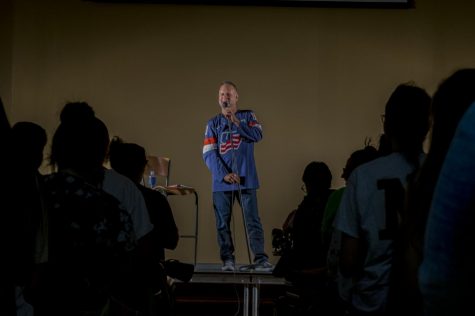 Coulier said he enjoys performing for colleges, but it's very different from performing at a comedy club.
"The difference between doing a college show and a comedy club is way different. People are drinking, it's a whole different energy," he said. "Colleges are my favorite, I just really kind of click with the college audience."
A lot of fans probably know Coulier from his character Joey Gladstone on "Full House." Even though comedians like Coulier write much of their material before a show, he said that standup is a much different world from a sitcom.
"I get to kind of go off tonight… I can kind of be the ringmaster in my own little world that I get to create up there," he said.
According to Coulier, standup comedy has changed a lot over the years.
"Standup [comedians], we usually are holding up the mirror to society and we tend to kind of peel away the layers so that we can laugh at ourselves," Coulier said. "I don't think you're going to see many Richard Pryors or Lenny Bruces or Don Rickles or George Carlins, Dennis Millers from here on. I just think that that era is kind of a bygone era."
The comedians of that "bygone era" are important to Coulier, because they let society laugh at itself.
"I think you need to laugh at yourself, I think you need to make fun of other people. I'm not saying mean… It diffuses a lot of tension and I think that you really need comedians right now especially," Coulier said.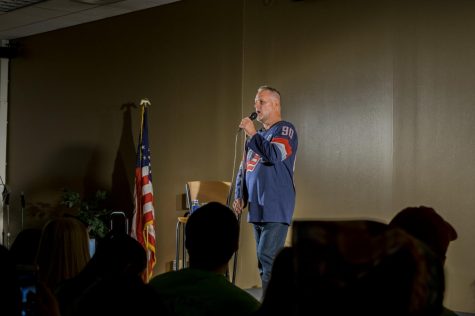 Even a seasoned entertainer like Coulier still gets an adrenaline rush before getting on stage in front of an audience, but Coulier says he's finding enjoyment elsewhere, instead focusing on writing, producing and directing.
"There's things on the other side of the camera that I'm really enjoying. I'm directing some 'Fuller House' episodes, and that's a blast… I'm going to branch off hopefully into other sitcoms," he said.
Coulier's change of focus means we probably won't be seeing a Netflix comedy special anytime soon.
"Standup has become kind of a really fun hobby… There's just not the time to do [a special] properly," Coulier said.
In both his comedy and in a one-on-one conversation, Coulier comes off as a down-to-earth guy. His college show touring season is on hold for now, but you can find him on his Netflix series "Fuller House," where he reprises his character Joey from "Full House." Coulier said that production for the next season begins this month.
Bethany Wade contributed to this article.
Contact the writer: [email protected]
Twitter: @WeidnerTWW